Breast Cancer: How TM Helps Recovery
Fear, anxiety, and confusion often accompany the diagnosis of cancer or any life threatening disease. Being able to balance one's emotions and navigate through treatment options and lifestyle changes is essential for a more comfortable recovery. The TM practice effectively supports that goal.
Research: TM and cancer
A 2009 study shows TM improves the ability to manage stress and find solace within, thereby giving encouragement to women with breast cancer.
Published in the peer-reviewed journal Integrative Cancer Therapies,1  the study found that women with breast cancer who practiced the TM technique experienced reduced stress and improved mental health and emotional well-being through the course of their illness.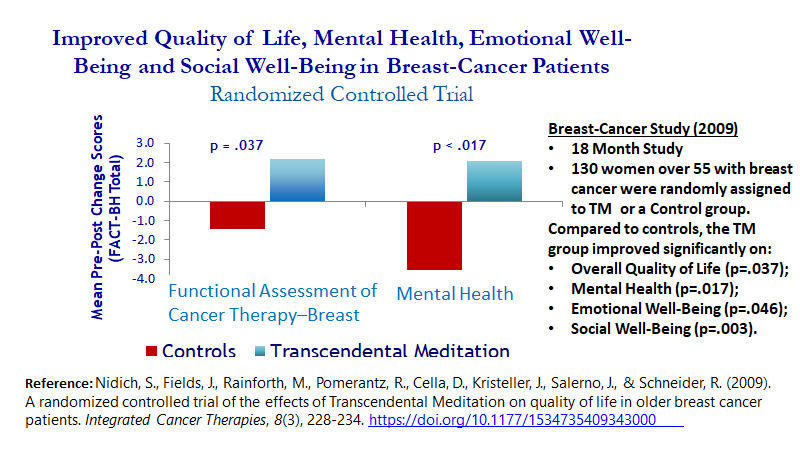 "It is wonderful that physicians now have a range of interventions to use, including Transcendental Meditation, to benefit their patients with cancer," said Rhoda Pomerantz, M.D., study co-author and chief of gerontology, Saint Joseph Hospital in Chicago. "I believe this approach should be appreciated and utilized more widely."
TM technique fosters healing
Emotional and psycho-social stress are known to contribute to the onset and progression of breast cancer and cancer mortality. The TM technique gives an experience of inner peace and deep relief, helping to reduce the sense of helplessness and fear that women often feel when when facing a life-threatening disease.
The Transcendental Meditation technique is an effortless practice and doesn't require concentration, focus, or adopting any beliefs. The technique is taught by a professional certified teacher who provides personal instruction and thorough follow-up. Women suffering from a serious illness can be confident they are learning an authentic, effective meditation whose benefits are validated by scientific research.
Relief for patients and families
Families of cancer patients, also impacted by stress and worry, find tremendous benefit from the TM practice during such trying times.
Women searching for more natural approaches to dealing with breast cancer will find that the TM technique is a completely natural, comforting practice that offers a foundation of strength and inner peace to foster healing and recovery.
Testimonial from a cancer patient:
There was one component that was missing during my healing process, and that was having equilibrium. Boy, does TM help you on the recovery process!

ROBIN ROBERTS
ABC broadcast journalist
---
Integrative Cancer Therapies (Vol. 8, No. 3: September 2009), "The Effects of Transcendental Meditation on Women with Breast Cancer"