Sep 19, 2017
Successful Self-Reinvention: The Award-Winning Susan Daniels
---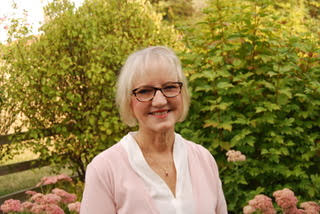 There's no reason to lay down on the couch and veg out following a major illness or after retirement. It's a time during which a creative, energetic woman can regroup and follow the passions that have been simmering on the back burners. I've been acquainted with Susan Daniels for decades, but only recently became aware of her self-invention, talents and accomplishments.
JH: You've been busy! Student, advanced degrees, mother, nurse, author.
SD: Yes, I have been busy. I sometimes think I got this thing backwards, instead of retiring at this time in my life.
When did you learn the Transcendental Meditation technique?
I learned TM in 1973, when I was twenty-two. My best friend had learned and she paid for me to learn as a Christmas present. It was the singular best thing that happened in my life up to that point, and also the one that affected every experience after that. My husband Bob and I had been trained as TM teachers but we were also busy parents with a growing business. Meditating twice a day, usually in a group with other meditators, was the one thing that made it work. There was always TM to alleviate the pressures of both business and family life.
What interested you in nursing?
At age forty-five, I was diagnosed with Stage II breast cancer. It upended our lives–my youngest child was only seven—and it naturally affected all of us. After a year or two of treatments and doctors' appointments, I decided it was time to focus on something other than my illness. Nursing had been one of my back-burner interests since childhood (I've had many), so it seemed like a good step to go back to school. Our two older children were off in college by then, and there was a good nursing program at Indian Hills Community College, about twenty miles from our Fairfield, Iowa home.
Transcendental Meditation helped me especially when I had breast cancer, and again trying to balance my school work and family. I can't think of an area of my life that hasn't been affected for the better by the TM practice. A friend once told me that when he learned TM, it was as if he'd suddenly quit trying to swim upstream. I think that's a very apt description.
What was difficult about becoming a nurse and what was most rewarding?
I found that I was a good student—that was rewarding, because I wasn't sure I had it in me at the age of 48. I liked studying, I liked learning about physiology and how things in the body work. More than that, I loved nursing theory, which proposes that the goal of nursing is to bring perfect health not only to the patient, but to her family and society as a whole. This was so in line with everything I'd learned from the TM practice.
The difficult things? It's hard to see sick babies and children. That's always tough. I think pediatric nurses have super powers. The other particular thing that has really stayed with me is elder care. My nurses training began and ended in nursing homes. People end up in nursing homes for very necessary reasons, but it still doesn't seem the most effective and humane situation for their care.
Have you always been a writer in-the-making?
I've been a voracious reader all my life and writing was on the back burner while I was teaching TM, raising our family and helping my husband in our business. I had a quick and serendipitous entrée into the writing world while I was in nursing school. School was four days a week and on occasional weekends I would drive our daughter Chétana and her pony to horse shows. The show world, and I think this applies to dog shows, too, is its own unique universe, with complicated rules and social norms. By chance, I was introduced to the editor of the magazine, Practical Horseman, and somewhat brashly told her I thought she needed a column for parents. She told me to send her something. I went home and wrote two essays. She liked them and gave me a bi-monthly column in the magazine. Later, I was approached by The Lyons Press to write a book for them. The Horse Show Mom's Survival Guide was published in 2005.
After the book came out, all I really wanted to do was write fiction. But I needed to learn how to do that. It's very different from the journalistic writing I'd been doing. I attended some summer classes at the University of Iowa, and had some private mentoring, but knew that an MFA would be the best thing for me. I did not yet have a Bachelor's Degree, so I went back to school and obtained my BSN from the University of Iowa. I loved that year back in nursing. I did my clinical work at our local public health center.
You won the Fairfield University MFA 2017 Book Prize! Was Fairfield your alma mater? How did the recognition come about?
I got an MFA in Creative Writing from Fairfield University in 2012. It's a low-residency program where I attended in person twice a year and the rest of the time in long distance communication with my mentors. They have a richly talented faculty and I learned a great deal about the craft of writing. Plus I had the advantage of my TM practice, which helps me to maintain the settled awareness which is so necessary to thinking deeply about the development of a fictional world. I wrote most of my short story collection during that time.
Your collection "The Genuine Stories" will be published by New Rivers Press in 2018. Tell us about it.
Everything is material. I used a lot of what I learned in nursing school to write The Genuine Stories, based on the experiences of a fictional healer named Genuine Erikkson. The stories, told from many different perspectives and characters, are mostly about ordinary life and how the extraordinary can sometimes affect us in unexpected ways.
Fairfield University offers a bi-annual Book Prize which is open to students and graduates of the program. I was a finalist two years ago and won this year. The judge was Pen Center USA Award winning author and columnist Meghan Daum, and I am thrilled by the honor. The prize includes a publishing contract with New Rivers Press, a highly regarded literary press at Minnesota State University in Moorhead, Minnesota. I believe the book will be published in the fall of 2018.
I understand you have three children. Have the apples fallen near the tree?
Our children all attended the Maharishi School and two of them went on to attend Maharishi University of Management. Genevra is married and she and her husband are both lawyers, have two daughters and live in Dallas. Their friends usually end up learning Transcendental Meditation so they must be radiating all the benefits of the technique. My son Ben and his wife are building an Assisted Living Center in Marshalltown, Iowa, and their two boys attend the Maharishi School as our children did. Chétana is engaged to a TM meditator and is, as I was, a nurse—she works in the Medical ICU at the University of Iowa. She is in her third year of a doctorate program for Nurse Practitioners, concentrating in Adult/Gerontology nursing. So, yes, I think they dropped right down below the leaves, though they are each uniquely their own remarkable human being.
What are your plans for the future—more books in the works?
I am currently earning my PhD in Creative Writing at Bath Spa University in the UK. It's also a low-residency program which I've been doing since 2014. I'm hoping to finish up sometime next year. For my dissertation, I am writing a novel about aging and memory loss, also with a magical realist aspect. So yes, more books in the works and more short stories. And teaching—I hope to get some time to teach writing at MUM.
Anything else you'd like to share?
In all my pursuits, there were two things that helped me gain and maintain balance: my daily TM practice and my ability to look at the medical aspects of my illness with a cold eye. I'm fortunate to be able to say that I'm thriving and enjoying life and all it offers.
---
Janet Hoffman is the executive director of TM for Women Professionals, a division of TM for Women in the USA
More Posts by Janet