May 8, 2020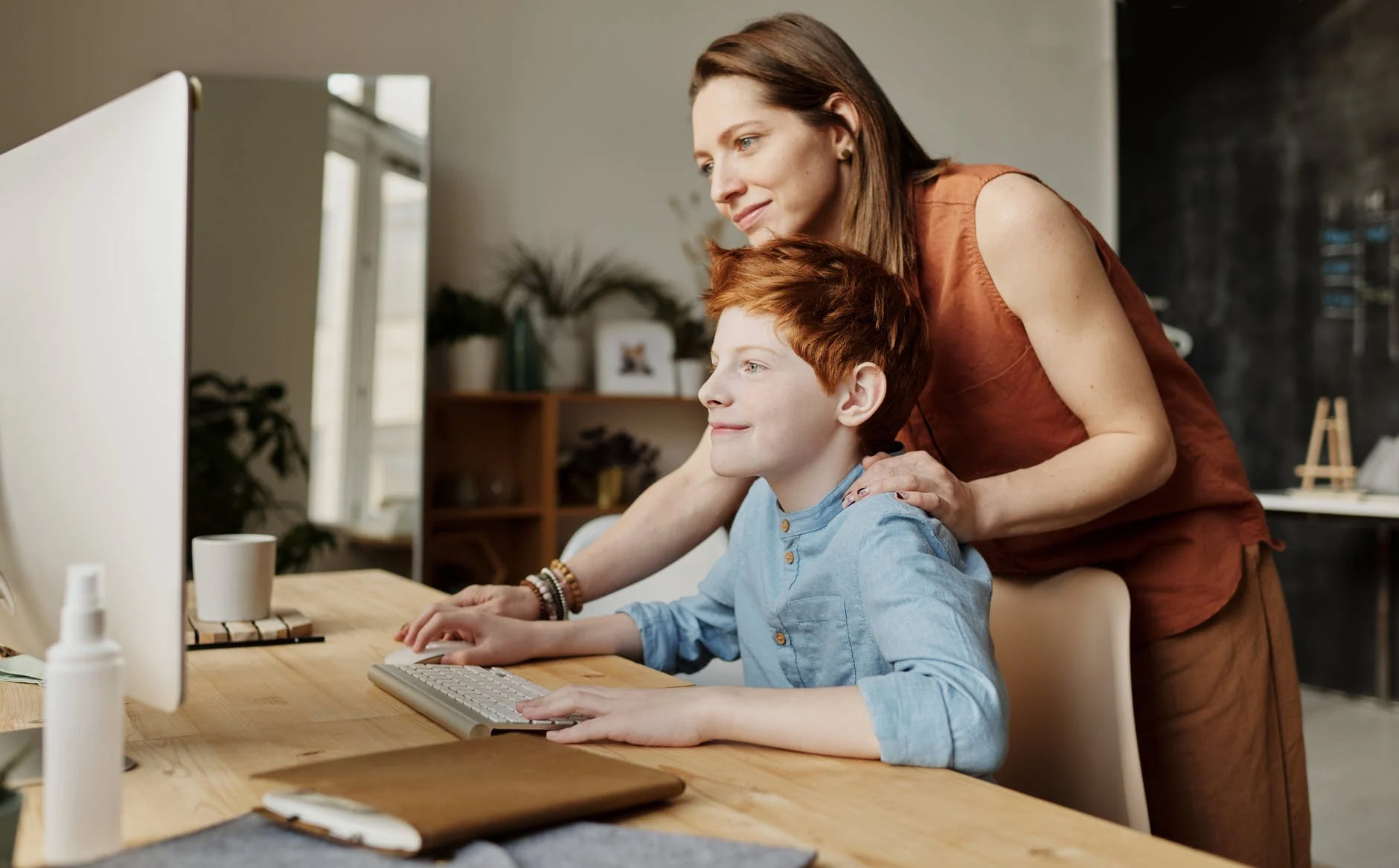 Homeschooling During Self-Seclusion: Interview of a School Psychologist
---
Is being homebound getting to you? Social distancing and its consequences of being unable to interact with friends and peers and being restricted to our home (and yard if we are fortunate enough to have one) also affect our children's physical and psychological health. Trying to educate the kids at home right now is not the same as traditional homeschooling, which usually includes outings such as trips to museums, libraries, zoos, and farms.
Many students do have access to their classwork online and many are also using a variety of free online resources that were born of need during this pandemic. But parents, not trained as schoolteachers, are under pressure to provide education and a good routine. This might be frustrating and stressful both for parents and their "students." How much time is safe and healthy for your kids to sit in front of a computer screen…if you have one for them to use. Will they read books? Exercise? How long before the kids trapped in apartments or small houses explode or implode?
For answers to these questions, I turned to Susan Linden, a former school psychologist (and mom of two) from New Jersey. She discussed the pros and cons of homeschooling–from the child's and parent's perspectives.
JH- In your experience as a school psychologist, how many parents who you met seemed equipped to take on homeschooling if they had no choice?
SL- Most parents that I met in my years working as a school psychologist were loving parents and good advocates for their children in school and in sports and personal interests. However, most parents did not seem interested in or qualified to provide home schooling. The majority of parents have jobs that do not allow them to plan and then provide and monitor the school lessons for their children. Further, some parents are simply not interested in the very demanding project of "teaching." And the new math approaches are very, very different from those we adults grew up with, so that even parents with good math skills find it a real challenge to teach the new math approaches to problem solving. Finally, parents usually appreciate the many social interactions provided by being in school with other children.
I did see that there were some parents—always mothers in my experience—who did a very fine job of homeschooling, providing not only a good academic curriculum but also many social opportunities, sports and cultural trips. But teaching a child at home is really a full-time job.
However, traditional homeschooling is quite different than what mothers and children are experiencing now. I know that today, with the COVID-19 pandemic, schools, even nursery schools, are providing instruction online via Zoom and FaceTime. So the responsibility to plan lessons and teach them remains with the official teachers and the school system. With the online classes, the regular teachers continue to manage the curriculum, give homework and facilitate online discussions. Even nursery school children have access to seeing their teachers read stories and sing songs for some time each day.
JH- Do you think teaching your kids at home is possible without a family or parent-child dynamic interfering? Or would that help in some way?
SL- Of course, online learning is greatly influenced by a child's family dynamics. Mothers, who seem especially attuned to the subtle emotions of their children and family members, are experiencing much more time with everyone in the home together so have a new opportunity to observe how their child behaves and engages in learning. They might feel proud that their child can stay focused for so many hours each day, or perhaps annoyed that they have to remind their child to pay attention. I am expecting that for many fortunate families, this time of quarantine will result in some benefits and a real growth in family relationships—a feeling that we are all in this together, a chance to play with siblings rather than school peers, a slower and more relaxed pace of life, a feeling that the pressure of being over-scheduled is eliminated, playing card and board games, and having discussions about this virus and common fears and hopes. Of course, there will be boredom and tension and cabin fever. But I hear reports from many mothers that they are doing more things like baking and taking walks together and feeling a sense of calm in the home and with each other. That calmness, radiating from a mom, is hugely effective as a foundation for the well-being of the whole family—for me, Transcendental Meditation assures that I can feel and radiate calm and emotional stability… and even joy.
JH- What are the academic ramifications of teaching your kids at home?
SL- Learning at home, even with professional, online instruction, has its own benefits and challenges, both academically and psychologically. In the academic realm, many teachers are very skilled at teaching with a variety of types of modalities: demonstrations, talks, videos, visual diagrams and learning. That is continuing these days with online instruction. However, teachers who are providing the academic instruction are reporting that they have much to learn about how to teach online, because the need came up so suddenly. Fortunately, I am hearing that often students are less distracted with the online teaching of these past several weeks. Also, children are eager to have connection with the teacher and with their peers through the computer. Those that have a bus ride or a long drive to school sleep later and feel more rested. For middle and high school students, there is less pressure to "look great" when learning from home. Finally, the novelty of learning online, using a computer (a favorite tool) is an advantage at this time, at least so far. We're hearing that children all over the country who have no computer or smartphone, or limited access to WiFi, are missing out on school and will be academically left behind.
JH- What are the psychological advantages and disadvantages?
SL- There are several advantages to online school at this time. Children feel less anxiety because staying home makes them feel more protected and safe. They have more time with family and siblings, and they can sleep more and feel more rested. A big psychological advantage is that they feel as if they are contributing to society's world-wide endeavor to prevent the spread of COVID.
I think the major disadvantage of being at home while going to school online is psychological – that the so-frequent, chance interactions and connections of a school day are missing. For those without an adequate social network, this can be a time of increasing loneliness. The small-group work, hands-on activities, and the many chances to socialize and share ideas and have casual interactions have disappeared. Finally, tension can easily arise as parents are expected to oversee the child's "attendance" to computer instruction – making sure their child is not texting or doing other things while pretending to watch the screen. Parents do not want to take on that role of monitor and disciplinarian during the school day. A lot depends on the family dynamic and how good relationships were before the pandemic. Everyone in my family has learned TM, which reduces stress so well that relationships improve as a result.
JH- Do you think homeschooling—when leaving the home is potentially dangerous—causes anxiety? Or allays it?
SL- I think that a pandemic alone causes high levels of anxiety for all of us, including children. Going to school with a very contagious virus around certainly produces intense anxiety for students and their parents, while a quarantine and learning from home causes its own anxiety. Kids know well that being around others is dangerous in this time, and so staying at home gives them a sense that they can control the danger, at least somewhat. So while not ideal, schooling from home at this time can be talked about as empowering because it helps protect others, and is an effort we are all making together. Aside from the pandemic, during ordinary times, there are many sources of anxiety; I find that the TM technique, which has been researched extensively around the world, reduces anxiety and fear significantly.
JH- Depending on their ages and what grade they're in, do you believe that some kids have more benefits than others when taught at home?
SL- It is accepted that traditional homeschooling often benefits students who have social issues like shyness, an illness, or even extreme giftedness. Absolutely, younger children, particularly those learning to read, do better when learning in a real classroom. By high school, it seems students can learn quite well online. In general, a more traditional way of learning in a classroom in a school seems to work best for most students and their parents. This pandemic is giving families a taste of learning from home!
JH- Most parents try to curtail their children's time in front of screens in normal circumstances. How do you think hours spent on smart phones or other devices will affect kids?
SL- Mothers are always trying to set limits on screen time, now more than ever. Anecdotally, these days mothers are finding it difficult to reduce unnecessary screen time by kids but probably need to give themselves a break from policing it. On a more optimistic note, I see many families walking outside together after dinner, and hear that online exercise classes, cooking, and even dancing together to music are new family pastimes. Many organizations provide evening story time for children (online, of course).
JH- Other ways this can affect kids' physical health?
SL- I think there are a few ways in which children's physical health will be affected by this pandemic and quarantine. First, is a general lack of exercise. Things like walking to and from school, walking through hallways between classes, playing neighborhood games or team sports—these activities are on hold for now. And second, the increased anxiety and frustration, which we could call stress, take a toll on everyone's health. While kids will avoid daily school exposure to other students and their germs, they will probably become more vulnerable to the fallout from anxiety—more trouble sleeping and reduced immunity. Finally, with parents very reluctant to take a child to see the doctor in an office or to go to an urgent care facility, some children who need attention will not get it, at least not as quickly. With some data, researchers will eventually be able to tell us exactly how this time is impacting the health of our children. I wish other families had what meditating families have to provide them with the resilience needed right now—the TM technique reduces imbalances that lead to sickness and it increases immunity and wellbeing. I'm so grateful for it.
JH- There's always an adjustment after a vacation when school resumes. How do you think a return to school after a prolonged time of homeschooling will affect immersion in the class again?
SL- Returning to school classrooms will be a huge change. I think that in many ways, students will be relieved to return to their schools, the ordinary structure of days, and their former social environment. But I think many will also miss some of those good aspects of their time learning from home. I hope that mostly positive changes in lifestyle will result from this really difficult time in our lives. Maybe there will be a greater appreciation of time spent with no scheduled activity, Hopefully, there will be a growth of mutual appreciation among family members, especially for the complex role that mothers play. And maybe some of those new activities and interests will continue even after online schooling stops. I know that this pandemic is one of those events that we will all remember, always. While our children will recall the anxiety and frustrations of this time, the huge change in daily routines, I think that they will also treasure a renewed sense of community, of family unity. They will remember the quiet and relaxation, maybe even a feeling of coziness, and will go back to school with a stronger, more profound, pervasive sense of connectedness.

---
Janet Hoffman is the executive director of TM for Women Professionals, a division of TM for Women in the USA
More Posts by Janet