Apr 20, 2021
Gather the Women, Transform the World—Nobel Peace Laureate Leymah Gbowee
---
Ms. Leymah Gbowee, 2011 Nobel Peace Laureate, internationally renowned speaker, powerful peace activist, and women's rights advocate is the founder and current president of the Gbowee Peace Foundation for Africa.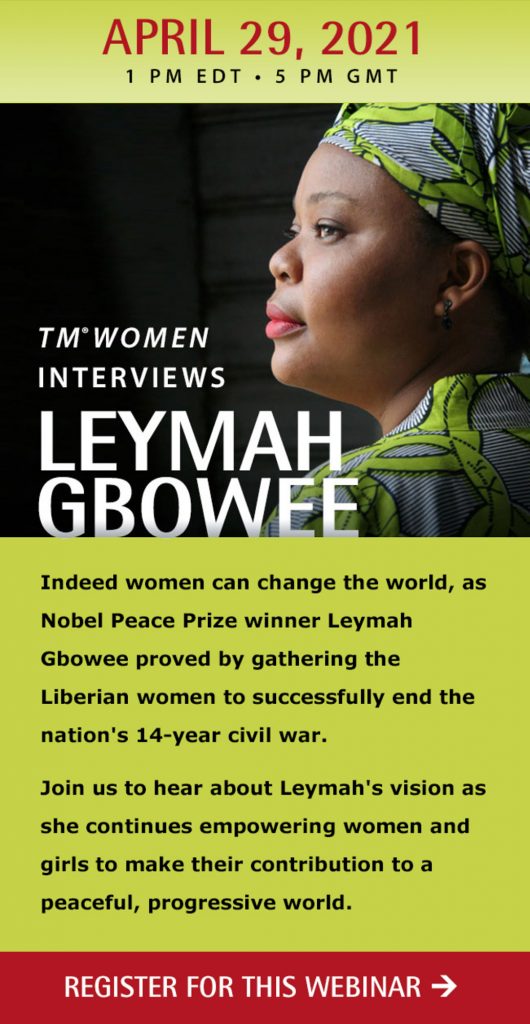 From 1989 to 2003, Liberians lived in a violent civil war. While the conflict raged, Leymah became a young mother and eventually trained as a social worker and trauma counselor, working with ex-child-soldiers. She came to believe that women had a responsibility to the next generation to work proactively to restore peace.
Leymah drew upon the reservoir of courage inside herself to help end the 14-year civil war and to transform her country. Empowered by the vision of women's role as peace creators, she succeeded in inspiring the Liberian women to find their own inner courage and join her.
As a result, Leymah formally founded Women of Liberia Mass Action for Peace. Working across religious and ethnic lines, she led thousands of Christian and Muslim women to gather in Monrovia for months. She said, "if any changes were to be made in society, it had to be by the mothers."
The movement started with the women simply praying and singing in a local fish market. They prayed for peace, using both Muslim and Christian prayers, and eventually held daily nonviolent demonstrations and sit-ins in defiance of orders from Charles Taylor, the tyrannical president at that time.
Leymah Gbowee and Ellen Johnson Sirleaf (a voice for freedom and an advocate for health for all) were able to end the war and usher in a period of peace. In November of 2005, Ellen Johnson Sirleaf was elected President of Liberia—the first woman to lead an African nation. Leymah and Ellen were awarded the Nobel Peace Prize for "non-violent struggle for the safety of women and for women's rights to full participation in peace-building work."
You are warmly invited to join TM Women at 1:00 pm EDT on Thursday, April 29th to hear Leymah speak about her life-changing experiences and her current goals for creating educational and other opportunities for women to transform the world.
To register: https://tm-women.org/leymah-gbowee/