Feb 19, 2016
Tracy McCormick: Learning to Stand in Your Own Light
---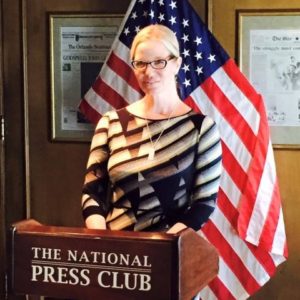 For Tracy McCormick, learning to practice the Transcendental Meditation technique was part of a spiritual journey that started when she was a child.
"I come from a long line of strong, spiritual women," she says. For example, her grandmother Mary J. McCormick was pregnant with her seventh child when her beloved husband suddenly died of a heart attack in 1956. Relying on her intrinsic frugality and her strong faith as a member of the Catholic church, Mary not only managed to raise her children, but ten years later, when she saw a notice on her church bulletin board asking for lay ministers to serve in Bogota, she felt called to help Columbia's poor. She arrived in Columbia with her three youngest daughters in tow, aged 11, 14 and 16, not knowing a word of Spanish.
"My grandmother volunteered for a year and ended up staying for 26," says Tracy. Beloved by the people there, Mary J. McCormick worked in the poorest barrios in Columbia and worked tirelessly to improve the lives of women, children and the elderly there. She set up a day care center, a home for destitute street women, assistance for women to start their own businesses, a milk subsidy for mothers and babies long before the US government established Women, Infants and Children (WIC), and many other programs for the poor.
With her grandmother as an example, Tracy was taught from a young age to help other people. "We always had international folks coming through because our home was my grandmother's base in the U.S.," she says. "I'm grateful for the Catholic Church and I've been involved in the parishes in the different places I've lived."
Yet in her 20s, Tracy started wanting something more inward-directed. "I felt like there was something more out there, that I needed to get more knowledge, and I read books on Buddhism, Sufism and Islam," she says. "For my spirit I didn't want to be in a box, I wanted to explore deeper modalities."
Looking back, Tracy feels that a large part of her journey was learning how to take better care of herself.
"I'd always been directed more outward with my spirituality, trying to help other people my entire life, because of my grandmother's example," she says. "But at the same time, I modeled myself after family members who perhaps did not take care of themselves emotionally."
Learning to Listen to Herself
Tracy first heard about the TM technique in 1989, when she was a dental assistant in NYC, but it was to take twenty more years before she decided to try it.
During that time she married and had three children. She was 35 when she separated from her husband, ending an emotionally abusive relationship of 14 years. When he cut her off financially, Tracy found the strength and resourcefulness to raise her three children by herself, much as her grandmother had done before her.
"Luckily, I love people and I'll chat with anyone, anywhere," says Tracy. "My gift for gab quickly led me to a job in sales for an international cleaning products manufacturer. One day I noticed a boutique fitness center opening up in my neighborhood. I went in to open an account, spoke with the owner, and wound up hired as the facility's director of sales and marketing. I signed 150 new members in six months, bought advertising on ESPN, wrote an ad that ESPN hired me to voice—which I did in one take. ESPN gave me more work, which sparked an idea to launch a radio career. Nothing wrong with reaching for the stars, right? That's the journey of life."
Turning every job into a stepping-stone, Tracy hosted radio shows in Scottsdale and LA with a stint at Sirius XM Radio. After featuring live acoustic bands from around the world on one of her shows, she plunged into music management, and later worked in A&R, developing talent in Hollywood.
Then, in 2011, following a draining custody battle with her former husband and the long illness and death of her beloved father to cancer, which kept her out of LA for long stretches, she lost her current job. Devastated and struggling financially, she started, once again, to rebuild.
She landed in Fairfield, Iowa, where a month-long road trip turned into a three-year stay. It was during this time that she started the Transcendental Meditation technique.
"When I finally learned TM, it really helped me delve deeper into the Self," she says. "I needed to do that. TM allows you to take care of yourself in a much broader way."
She explains, "What I experienced in my meditation has helped me to stand in my own light even more than before. I'd always been taught to help other people, which is good. But I mistakenly thought helping other people meant pleasing other people. Instead of focusing in on me and taking care of my heart and my spirit first, I was always thinking of other people at the expense of my own self-care. That can deplete your soul."
After learning TM, and with some counseling, Tracy found her relationships becoming more positive and mutually enriching. "I had not been discriminating about who was in my inner circle, even in intimate relationships. I saw that I was attracting emotionally abusive relationships with men, and that I didn't need to do that anymore. Learning to stand in your light and not giving your power away to people—it's been a journey for me. TM has helped me to go inward enough, to dive deep enough inside to create healthy boundaries outside. And boundaries are a good thing. If you're very giving, or if there are certain patterns from your family life, then you may not be listening to yourself and your own needs enough. TM has allowed me to do that."
She adds, "I really feel that living in this world, all human beings have some form of PTSD or another, whether they realize it or not. And TM can help with that. It can help us understand ourselves better, touch the core of our inner selves, to empower and soothe the spirit."
Rising Intuition
Practicing TM has also helped Tracy in another important area of her life—her multi-faceted career. After starting TM, she was inspired to start her own PR business, Lightfinder Public Relations.
Tracy describes a "lightfinder" as someone who is seeking the light, but also is being the light.
"People say to me, 'Oh you do PR, you can spin things,'" she says. "Yet I don't look at PR as spinning, because I frankly want to work with integrity. So I wouldn't want to take on a client who would ask me to do anything that's not within my spirit. I always think of Hafiz, who wrote, 'What you speak becomes the house you live in.' I want to be true to that."
Tracy noticed that after starting TM, opportunities came to her more readily. "Everything is easy-breezy," she says with a laugh. "I feel that I manifest my desires at a more rapid rate, which may sound strange to say. I've always been able to do that to some degree, I'd set my intentions on something and create it, but it's gone off the hook since I've learned TM. I'm flying at a faster rate than I ever imagined!"
Just as one example, last summer Tracy had the idea to start a film festival to support the fledgling Midwestern film industry and asked one of her clients, Creative Edge Master Shop, to sponsor it. She tackled the project with her usual passion and just two months later, she launched the highly successful Creative Edge Film Fest, which showcased independent short and feature films produced nationally, drawing packed houses and positive press.
For Tracy, it's all about listening to your intuition and letting that be your guide. "I've always been told I have good intuition, but TM has helped it develop in a deeper way," she says. "Because now I'm listening to me and not the chatter of the outside world."
She adds, "I've never had the time and space to just sit with myself until I started meditating. I never took that time. I was always go go-going in the world we live in, being a mom, starting businesses, trying to make it financially."
Now, even though her schedule is just as busy as before, Tracy carves out the time to meditate. "I really enjoy meditating every day," she says. "TM is so empowering. It does so many different things. I call it the magic medicine. Now I'm just content. I'm peaceful in a way that I've never been before. And if things come at me, which they will in life, I don't panic. And the beauty of it is that no matter where I am or wherever I go, I can close my eyes and it's always there."
---
Linda Egenes writes about green and healthy living and is the author of six books, including The Ramayana: A New Retelling of Valmiki's Ancient Epic—Complete and Comprehensive, co-authored with Kumuda Reddy, M.D.
More Posts by Linda