Jun 12, 2023
The Role of Meditation in a Healthy Pregnancy
---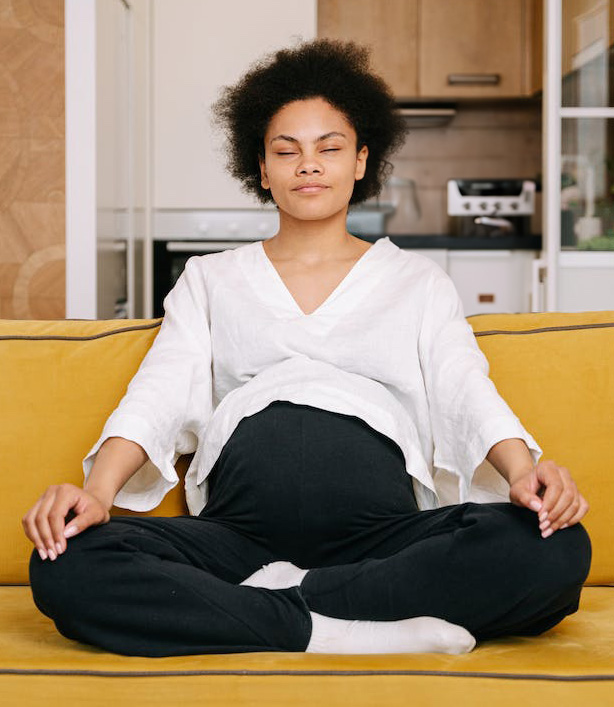 I remember pregnancy as a happy, exciting time but also as a time of unexpected physical and emotional trials. I was fortunate to have access to the Transcendental Meditation technique during my pregnancies and want to share that blessing with other expectant women.
The TM technique has been shown to reduce stress and anxiety while balancing emotions in general. This is obviously important for every woman. But the impact of these benefits on the life of a pregnant woman and on her soon-to-be newborn is vital. The benefits of twice-daily practice of the TM technique can reduce the risk of complications during pregnancy and delivery and have a positive impact on fetal development1.
Insomnia
I remember trying to get comfortable in bed to sleep at night—the bigger I grew, the harder it was. TM has been shown to improve the quality of sleep during pregnancy. According to a study published in the Journal of Counseling and Development (1985), TM decreases insomnia by as much as 42 percent.
High blood pressure
Expecting women are also vulnerable if they develop high blood pressure: pregnant women with high blood pressure are at risk of preterm birth and having babies who are smaller than normal. According to the Mayo Clinic, "High blood pressure during pregnancy poses the following risks: Less blood flow to the placenta. If the placenta doesn't get enough blood, the fetus might receive less oxygen and fewer nutrients. This can lead to slow growth (intrauterine growth restriction), low birth weight or premature birth."
Fortunately, extensive research has shown TM to be very effective in reducing hypertension2. The American Heart Association recommends that TM may be considered in clinical practice and according to an article in the American Journal of Hypertension:
A random-effects meta-analysis of nine trials suggests that Transcendental Meditation is associated with a significant reduction in systolic and diastolic blood pressure of ∼5 and 3 mm Hg, respectively. Sustained blood pressure reductions of this magnitude are likely to significantly reduce risk for cardiovascular disease.
Fatigue
It's common to feel tired during pregnancy, especially in the first three months. Hormonal changes at this time can make you feel tired, nauseous, and emotional. Pregnant women are highly encouraged to rest more—TM provides an unusually profound state of relaxation, as verified by published worldwide research. For many women, sitting to practice the TM technique feels like deep relief—for pregnant women, it can feel like a lifesaver. And I found I was rewarded with renewed energy after each time I meditated.
Support for new mothers
From my experience, I can tell you that being a new mom also requires support. Aside from the exhaustion and risk of post-partum depression, women might experience a reduction in mental clarity. But a research study published in 2021 found that TM can enhance maternal cognition and reduce the risk of postpartum depression3.
So, my recommendation for pregnant women: ease that aching back with a hot water bottle in a comfortable chair where you can do TM twice a day. And then, after your child's birth, keep TM in your daily routine (do it while the baby is napping) to give yourself the inner nourishment and balance you need to carry you through this wonderful (and challenging) stage of life.
References
Healthier Pregnancy, Healthier Motherhood: Speak with a Local Certified TM Teacher
---
Susan Marcus is a retired teacher, mother of two, and grandmother of three.