Feb 20, 2014
The Personal Journey of Acharn Yai, Buddhist Nun
---
(Part two of a two-part series)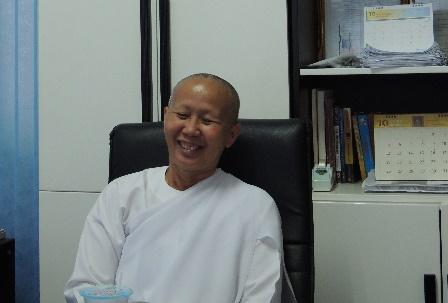 Acharn Yai is not a typical Buddhist nun. For one thing, she drives a car, uses a cell phone, and is committed to employing the best of modern technology to help the school thrive, even creating her own videos for fundraising.
She is also the founder of a unique school in Thailand. In 2003, Acharn Yai founded Dhammajarinee Witthaya School, the first and only free Buddhist boarding school for Thai girls who are at risk due to poverty, abandonment, or abuse. The school now has 530 in-residence students from preschool through grade 12, taught by 41 teachers. In order to accommodate 500 more girls who wish to attend the school, a new classroom building is already under construction.
The story of one woman uplifting thousands of girls from poverty is inspiring, to say the least. These girls not only receive safe haven and a free education—they are being transformed in ways that no one could have predicted or imagined. Under Acharn Yai's leadership, they practice the Transcendental Meditatio technique twice a day, which she credits as the turning point for the school—since the girls started meditation, they now win top academic awards, live in harmony together and have learned skills to succeed in a culture that would otherwise exploit them.
It would be hard to imagine anyone as suited to the job of leading the school as Acharn Yai. As she walks through the peaceful campus, the sounds of Buddhist chanting mingle with birdsong. The younger girls flock around her as she walks. It's obvious that she is not only revered by them, but dearly loved.
"She is a universal mother, so compassionate," says Anarbha Supaneedis, a teacher of the Transcendental Mediation technique who helps teach the new students who come each year. "I feel my heart melting when I see how much she loves these girls and wants to take care of them and nourish them in every possible way."
Outsiders also have recognized Acharn Yai's gifts. In 2012 she received the Enlightened Leadership award from the Global Mother Divine Organization in Vlodrop, Holland. And for her service in providing a free education to thousands of girls in poverty, she was honored with a service award for her leadership in Ratchaburi province, where the school is located.
It was Acharn Yai who made the decision to introduce the TM technique to the school's staff and students in May 2008, having heard about the educational benefits. Yet she herself preferred to remain a cautious observer and even went into hiding while the TM instruction was taking place so she would not get pulled into learning!
A few months later it became clear to her that the atmosphere of the school had already transformed. "Everyone seemed to be happier and more harmonious, unlike before," she says. "I heard no complaints about any difficulty or headaches from the TM practice even among the youngest students. This was a surprise to me because I had experienced complaints in the past from teaching Buddhist meditation to the girls."
She became curious about why this simple and easy technique could make such a dramatic change in her school. To find the answer firsthand, she finally decided to learn Transcendental Meditation in December 2008.
Ever humble and honest, Acharn Yai says she has experienced positive changes from practicing the TM technique for five years. "It benefits my life as a whole—making me healthier and calmer. The most obvious change in me is my emotions. I usually was a hot-tempered and impatient person. But after practicing TM, I became more peaceful, modest and careful. I am able to understand other people better than before."
Acharn Yai also feels that the practice of Transcendental Meditation supports traditional Buddhist values.
"When we practice TM, we go to the source of pure consciousness and purify stress, and when we come out of meditation we naturally think good, speak good, and act good. It's completely effortless and natural. When we have less stress, we don't have to force ourselves, we don't have to try to be good. We naturally live the teaching of Lord Buddha—to think good, to speak good and to act good. So TM and Buddhism are very related."
Based on her own experience, Acharn Yai became the first Buddhist nun to become a teacher of the Transcendental Meditation technique.
The construction of a large building is now underway to accommodate the 500 additional girls. A significant portion of money has come from the government and private donors, but the school still needs to quickly raise $95,000 to finish this large building in 2014.
This dynamic woman is thinking beyond the individual lives of these students, to ways they can become a force for good for the entire country. If she realizes her goal of providing room for 1000 students, then more than 800 students and teachers will be practicing the TM program together.
Noting research on the positive changes that take place for the community and nation when large groups of people practice the Transcendental Meditation program together, Acharn Yai aims to create nothing less than national coherence for Thailand. And that will be the greatest transformation of all.
---
Linda Egenes writes about green and healthy living and is the author of six books, including The Ramayana: A New Retelling of Valmiki's Ancient Epic—Complete and Comprehensive, co-authored with Kumuda Reddy, M.D.
More Posts by Linda