Apr 9, 2016
Maharishi University of Management: A Unique University Helps Women Grow in Consciousness, Creativity and Leadership
---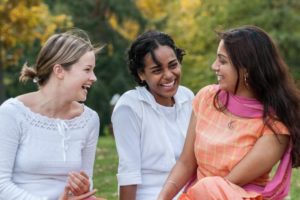 Like many young women today, Andrea Zapata enrolled in college right after completing high school. Deciding that she wanted to study environmental sciences at a university, she threw herself into researching different transfer options, but soon became discouraged.
"I grew disillusioned with universities that had great environmental programs yet did not show full integrity with the quality of food in their cafeterias or in their commitment to sustainability," she says.
It was her mother who found a different kind of school, Maharishi University of Management (MUM), where the emphasis is on developing the inner potential of the student through a strong academic curriculum along with the practice of the Transcendental Meditation (TM) technique. At the same time MUM promotes better health by serving fresh, local and organic food and culturing a balanced daily routine with time for yoga, sports, exercise, and adequate rest.
"My first reaction was that it was too good to be true," says Andrea, who is now 22 and about to graduate from MUM with a B.A. in business administration and a minor in sustainable living. "But I came to visit and the students were not only learning and achieving at a high level, they were living the wholesome lifestyle I was looking for."
Andrea was also impressed by the top faculty, many of whom are graduates of Ivy League schools, and found out that the school has garnered multiple academic awards. Most recently, the Sustainable Living program was ranked #4 in the country by EnvironmentalScience.org and MUM's bachelor's program was twice named a Sierra Club Cool School. The B.A. in business administration was named one of the Top 50 Best Value" business programs at small colleges in the United States.
Maharishi Mahesh Yogi, who also founded the Transcendental Meditation technique, established Maharishi University of Management in 1971.
"From the start, the aim of the University was to develop the full potential of each student by developing consciousness," says Dr. Vicki Herriott, Chair of the Department of Management at MUM.
So even though MUM is fully accredited from the BA to the PhD level and offers a standard curriculum—with degrees in business administration, computer science, education, literature, art, creative musical arts, physiology, physics, media and communications, and sustainable living—it is truly innovative at its core. While students come from diverse cultural backgrounds from the US and 85 different countries, every student is engaged in expanding his or her "container of knowledge." In other words, they are increasing their ability to learn and achieve.
Developing Consciousness
At MUM, not only the students—but also the faculty and staff—practice the TM technique, which is a systematic and scientifically verified means of developing inner peace and wellness. This is the heart of the education at MUM.
Through this simple, natural, and effortless procedure, practiced before the first class and after the last class of the day—students enliven the most creative, powerful, and intelligent level of their own awareness, pure consciousness. As a result, students report that it's easier to study, that grades improve, stress and fatigue diminish, creativity and leadership skills increase, health improves, and social relationships are easier. Scientific research backs up these personal experiences—as reported in more than 380 studies published in peer-reviewed journals throughout the world.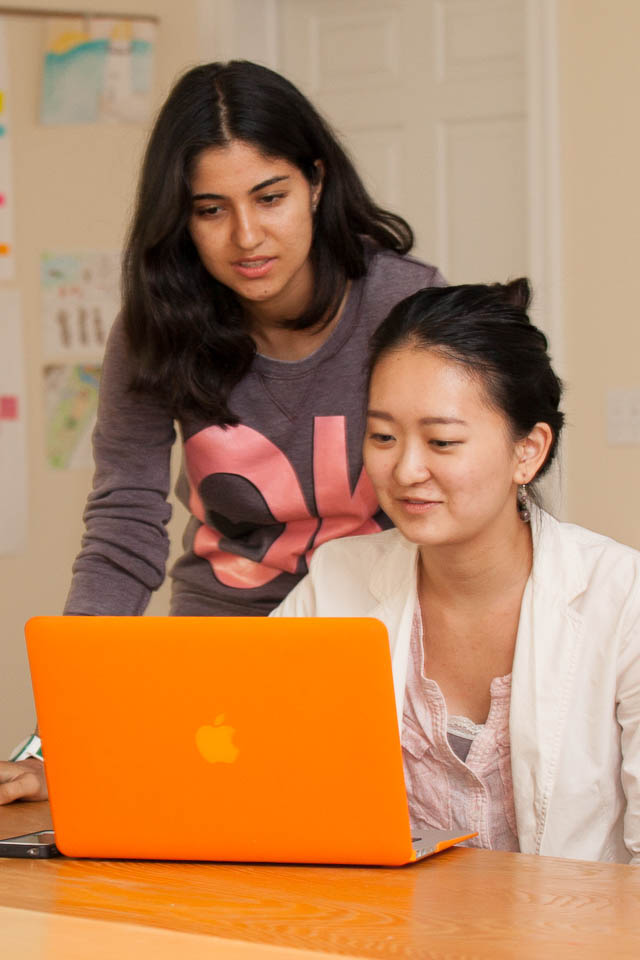 "Students are under so much stress today, and simply by lessening the stress students are able to learn better," says Dr. Herriott. "The brain also begins to function in a more orderly way. Research shows that even IQ, which was thought to be static, goes up. You could say that the practice of TM expands the 'container of knowledge.'"
While TM benefits both male and female students, it is especially helpful to college women today, who make up 57% of the average student body, according to the Digest of Education Statistics as reported in Forbes. A 2013 survey of college students showed that female students report higher levels of stress, anxiety and depression than their male counterparts.
"Women's options have greatly increased over the last decades, but with the increase in options comes a pressure to 'do it all,'" notes Dr. Herriott. "And we sometimes take on too much. By integrating TM into their daily activity, young women learn to create balance in their lives. As women, we have to take care of ourselves first, if we want to be of maximum good to others."
Andrea Zapata notes that due to the pressures of the media and popular culture, many young women feel lost. "I feel like it's really difficult for girls to get to know themselves and recognize their value and their worth. Many are trying to find themselves in other people and other things."
She says that her MUM education, and especially the TM technique, has taught her how to look for solutions inside herself, giving her a self-reliance that she never knew before.
"Coming to MUM has definitely given me more clarity towards a truth that many of us may not have realized just yet—that happiness already lies within each and every one of us. The secret is in understanding ourselves well enough to tap into our inner happiness a wholesome and nourishing way," she says. "Over time, I've been able to create an actual toolkit for myself—the tools that help me cultivate happiness within myself consistently. And TM has been a powerful foundation for that. Whenever I feel low, I can tap into what I know works for me, whether it's meditating or exercising or eating healthier or free-writing. It ultimately all is a reflective process for me that enables me to take a step back, evaluate where I am, and understand how I could grow in the direction I would love most."
Developing Leadership Skills
For Andrea, developing leadership skills is an important part of her life. In her previous college, she enrolled in student government and co-founded a mentorship program. She currently serves as the student government ambassador for the College of Business Administration at MUM.
She's also developing a viable business that deals with sustainability and schools. She started the project with fellow students under the auspices of the "Concept to Market" program, which is an innovative initiative spearheaded by entrepreneur and visiting faculty Cliff Rose and MUM's Department of Management.
"Practicing the TM technique has increased my capacity to better process, understand, and assess how to strategize to get from point 'a' to point 'b,'" she says. "I call it a 'bird's eye' point of view. This helps me engage more effectively with the group I'm leading—to guide and work with them even better."
MUM students regularly win awards for their projects on the national level, even when competing against students from much larger schools. The MyActions website gave MUM a Silver Level Student Actions Award, which honors undergraduate schools for student demonstrated leadership, momentum, and impact of green, caring, and healthy actions. And recently MUM was named one of "Thirty great small colleges for ESTP Personality Types" by DegreeMatch.org, a designation that they describe as students who are risk-takers, leaders and energetic."
Norah Fabek, a non-traditional student who entered MUM at age 25, says that those words describe her perfectly. "I identify with all three of those qualities very strongly, and I think most people would define me by those," she says. "I feel like those qualities are allowed to shine at MUM, and are developed by the educational system here."
Norah found MUM an attractive option after dropping out from another school years earlier. "I'd done some college right after high school but I wasn't getting the kind of information I wanted," she says. "I was looking for bigger answers and bigger foundational ideas—why people are the way they are. When I found out about MUM, it made sense and everything fell into place. It really made my education fulfilling."
Growing Creativity In a Changing World
"TM definitely helps facilitate creativity," says Nynke Passi, a poet and fiction writer as well as long-time creative writing faculty at MUM. "My most inspired writing comes in times when I am very inward, when I get quiet enough to listen. With students it's the same. Meditation makes people appreciate and notice the subtle nuances of things. It enlivens sensory awareness. It opens people's hearts and makes people feel happier inside. The feeling level in my classes at MUM is unique in every way; students are a family, they feel safe. They have a willingness to open up and explore."
Nynke Passi says others have noticed the extraordinary creativity of MUM students. "In the past ten years, eight of my creative writing students landed in leading graduate programs in journalism or creative writing," she says. "I think this unique atmosphere of inner exploration—not just of senses, mind, and intellect, but also feeling, personal voice, and a sense of cosmic connection, a universality you could say—has everything to do with the enormous success of MUM's undergraduate creative writing program."
Hannah Foster, an art major at MUM, says that TM and the MUM experience have helped her to become a more creative visual artist. "In the past, I experienced a high level of anxiety during many activities, from having to talk to people at work to completing a project," she says.
After spending time at MUM, she started to notice significant changes in her anxiety levels. "I think the initial benefit of practicing TM was a deeper confidence and trust in who I was and the ability to complete my goals," she says. "My anxiety has greatly lessened. I was always afraid I was making the wrong life choices for myself, or that my intuition was faulty. Through TM, I've been able to stabilize an inner peace I recognize as my true self. With this newly found confidence, I have little fear of making myself vulnerable in my artwork."
Connecting All Knowledge to Your Self
Besides developing consciousness by practicing the Transcendental Meditation technique twice a day, students learn to approach their studies in a new and insightful way.
"The practice of TM develops a student's familiarity with and understanding of consciousness, the underlying field that they experience in their meditation and that connects all disciplines," says Dr. Herriott. "By identifying principles that govern the functioning of their own growth of consciousness, but also govern the most fundamental aspects of every discipline, the student can more easily relate the principles of the discipline to themselves. The student begins to recognize these patterns and can more quickly understand new concepts based on their prior learning."
Students thrive in this kind of atmosphere, because it makes every subject of study personally relevant. It's turning things inside-out, so students can see how every discipline—whether it's math or biology or literature—has its basis in the unified, universal field of intelligence and creativity that they directly experience in their TM practice.
"Classes at MUM approach everything as if it's a subjective experience—nothing is object oriented," says Supriya Vidic, who had served in the US Army and reached the rank of Sergeant before coming to MUM, then graduated with a BA in media and communications and is pursuing a master's degree at Columbia University. "The 'you' is just as important as the 'other' or subject. When you take that view you really see the totality of things."
Preparing for A Career
MUM's focus on self-knowledge provides another advantage. "Employers are hungry for the very qualities that MUM cultivates, such as critical thinking, creativity, clarity, problem solving ability, relationship building, and collaboration," says Steve Langerud, MUM's career counselor.
Emily Marcus, M.D., would agree. An MUM graduate in physiology and health in 2004, she completed medical school at Johns Hopkins University to become a "hospitalist," a medical doctor who works exclusively in hospitals—a medical career that didn't even exist two decades ago.
"MUM helped me to become more centered," she says. "I had a very stress-free college experience, which helped me stay focused on what I wanted to do. I was able to maintain a balanced perspective in a field that can be both mentally and physically challenging. That was really helpful to me."
She also found that her studies at MUM gave her an edge in her current job at New York Presbyterian Hospital's Weill Cornell Medical Center. "At MUM, I learned a lot about nutrition, diet, and lifestyle modification for prevention and treatment of disease. Subjects like nutrition aren't taught much in medical school, but provided me with useful tools for helping my patients."
Dr. Herriott says, "One of the greatest joys of a teacher is to watch the growth of one's students. "To see our very diverse student body—who come from a wide variety of backgrounds, cultures and countries—all move in the direction of growing to be the best person that they can be is exhilarating. It's the reason I love teaching. Students grow in confidence in their ability to present their ideas effectively and work in teams productively. They learn to value their skills and their unique contribution to the world. They find their niche. They also learn to value the uniqueness of their fellow students. MUM is very much a family — a supportive family where each student is appreciated and in turn appreciates."
To find out more about degree programs at Maharishi University of Management, see www.mum.edu
---
Linda Egenes writes about green and healthy living and is the author of six books, including The Ramayana: A New Retelling of Valmiki's Ancient Epic—Complete and Comprehensive, co-authored with Kumuda Reddy, M.D.
More Posts by Linda