Feb 18, 2020
Heartbroken? Heart Disease, New Science, and a Simple Fix
---
It's February, so everyone expects a good deal of media coverage on matters of the heart. I'm not one to offer relationship advice but I can address the subject of heart health from a medical and scientific point of view.
Aside from being a woman and having a heart, I have some real credibility as an expert on the topic of heart health—I was a cardiac nurse in a Cardiac ICU for many years, as well as creating, and working in, some of the very first Cardiac Rehab Centers in the late 1970's (see photo).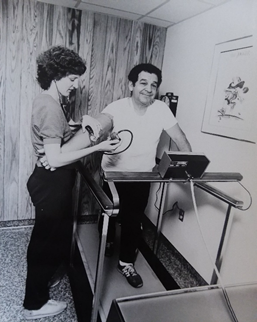 I'm happy to tell you that scientific research discoveries continue to help unfold a clearer picture of how to take care of our hearts. In the last couple of months, these studies gave us helpful information:
News re hypertension in women
A study reported in January in JAMA cardiology showed that high blood pressure tends to begin at a younger age in women than in men, suggesting that the physiological processes that lead to heart disease may start earlier in women than in men. High blood pressure (hypertension) damages the vessels, strains the heart and is among the most serious of risks for cardiovascular disease.
The study's senior author, Dr. Susan Cheng, director of public health research at the Smidt Heart Institute of Cedars-Sinai Medical Center in Los Angeles, said "I would encourage all to catch it as it starts to creep up, but keeping an eye on blood pressure is especially important for women."
I recommend girls and women learn the Transcendental Meditation technique as early in life as they can. It will bring a world of benefits to the mind, body and emotional life, and—relevant to this news about BP—TM has been shown by decades of peer-reviewed studies to significantly lower high blood pressure.
Would just any meditation or relaxation program help? Actually, no: The American Heart Association, reviewed different alternative approaches to hypertension, and in 2013 published their conclusion that the TM program is the only meditation practice that has been shown to significantly reduce high blood pressure and may be considered in clinical practice for the prevention and treatment of hypertension.
When a "big heart" isn't a good thing
A randomized controlled study published in the Autumn 2019 Hypertension issue of Ethnicity & Disease found that the Transcendental Meditation technique helps to prevent abnormal enlargement of the heart (left ventricular hypertrophy). LVH doubles the risk of heart attacks, arrhythmias, stroke, heart failure, and death from cardiovascular disease.
After only six months, the study's control group (those not instructed in TM) showed nearly 10% progression of abnormal heart enlargement while the TM group maintained their healthier baseline level of heart size. These results indicate that the TM practice is an effective non-medicinal method for preventing heart enlargement in hypertensives who are especially at high risk of developing associated cardiovascular disease.
Rehabilitation routine
The National Institutes of Health funded a new study conducted at New York's Columbia University Irving Medical Center in collaboration with the Institute for Prevention Research. The study, published in the Journal of Nuclear Cardiology, found that patients with coronary heart disease who included Transcendental Meditation with their cardiac rehabilitation regime increased blood flow to the heart by more than 20%, significantly enhancing lifestyle. The study indicated that the TM technique along with rehabilitation—and even TM on its own—was able to reverse the effects of coronary heart disease.
An ounce of prevention…
My point of view? Women, in particular, need to be proactive and view CVD as something to be prevented. Regular twice-daily practice of the TM technique has been shown to reduce the risk factors that would lead to cardiac events and mortality, offering women the power to take control of their heart health.
Earlier studies have shown that the TM technique reduces risk factors for cardiovascular disease, such as stress, high blood pressure, atherosclerosis, smoking, and insulin resistance. A 2012 study found a subsequent 48% reduction in heart attack, stroke, and death in heart patients who then learned the TM technique.
The TM technique is simple and effortless, requiring neither lifestyle nor dietary changes. Learning the TM technique offers women an effective and easy way to be proactive in securing their own state of good health.
As a woman "of a certain age" with a background in both preventive and acute cardiac care, I am confident speaking to others about risk factors for CV disease. Now instead of advising "learn ways to deal with your stress every day," without providing scientifically based suggestions of how to do that, we can confidently say, "Reduce your risk of cardiovascular disease by learning and practicing the Transcendental Meditation technique."
Care for your heart: Contact a TM teacher today
---
Amy Ruff, RN BSN, is the education director and director of TM for Nurses nationally in the United States.