Apr 27, 2017
My Heart Was Calling Me: How One Woman Led Thousands Out of Poverty
---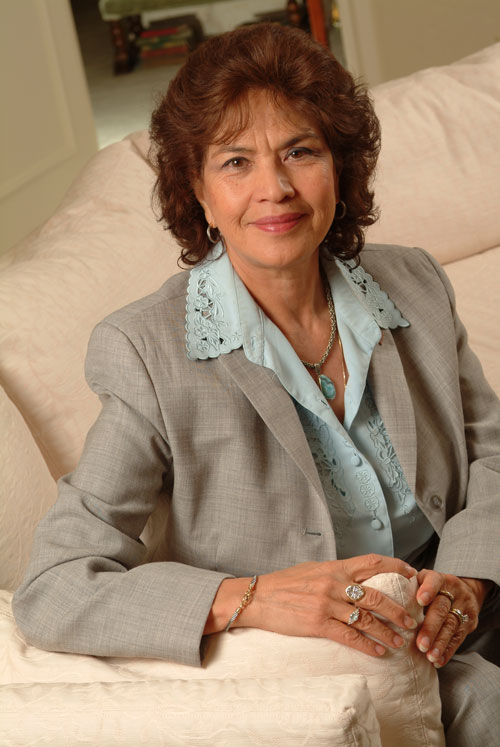 When I first met Gabriela Canepa, I quickly learned that her vibrant happiness comes from following her heart. Here is the amazing story of how she pursued a lifelong passion to help the poorest of women thrive—not only in her birth city of Lima, Peru, but in her adopted city of Boston, MA.
As a child growing up in Lima, Gabriela was encouraged by her parents to become educated. By the 1970s Gabriela had earned an undergraduate degree in accounting and economics, and was working as a Certified Public Accountant for a private industry. Then she found a job that was in line with her dreams, working for USAID (US Agency for International Development), run by the US government in Lima.
As the first professional woman to become a USAID employee in Peru—initially as a financial analyst, later as a project manager and family health officer—she noticed a disturbing fact. The USAID development programs—government-to-government agreements designed to help people of developing nations rise out of poverty—were not reaching the poorest of the poor.
"At that time there was a 40 percent unemployment and underemployment rate in Lima, and the rural women who had come from outlying provinces and lived in the Pueblos Jovenes, the shanty towns surrounding Lima, had no access to public services," she said. "The money was staying in the middle, not reaching those at the bottom."
The idea came to Gabriela to give the poorest women access to micro loans. While micro lending is now considered an established method for helping the poorest entrepreneurs in developing nations, at that time it was a novel idea.
So in 1979, Gabriela founded the nonprofit Association for Women's Development and Integration, Asociacion para el Desarrollo e Integracion de la Mujer (ADIM), to satisfy the needs of women in the poorest neighborhoods. Putting her economics-based analytical skills to good use, Gabriela first conducted careful participatory research before launching her nonprofit. She wanted to find out what other services were available and what services these women needed to help them rise out of poverty and help their children become educated.
With impeccable professionalism, she organized focus groups and conducted interviews with community leaders and the women themselves. "I found that these women, who often came from the countryside and lacked basic legal documents such as birth certificates, had no access to jobs, credit, education, legal advice, primary healthcare, reproductive education, or basic needs."
Once she understood what was needed, she began applying for grants, creating the programs, and training a team of five women as staff. After obtaining a grant to offer the first micro loans to women in Lima, Gabriela negotiated with three major Lima banks to administer the loans and offer banking services in low-income neighborhoods. This in itself was revolutionary, to provide the women of shanty towns access to banks.
Yet Gabriela took the innovation a step further. She understood that the women needed to learn how to manage their loans, their assets, and their businesses. Drawing on her own professional contacts as head of the Committee of Women CPAs in the Association of Certified Public Accountants, she recruited young women CPAs and trained them to provide financial education to women in poor neighborhoods.
It took four years before the ADIM opened their services in 1983, but the careful preparation paid off. "These immigrant women never thought of loans or opening savings accounts before," she says. "It was amazingly powerful for them."
One woman who received a loan started to sew jeans. She kept expanding and became one of the largest manufacturer of jeans not only in Lima but other provinces as well.
That was just one success story among thousands.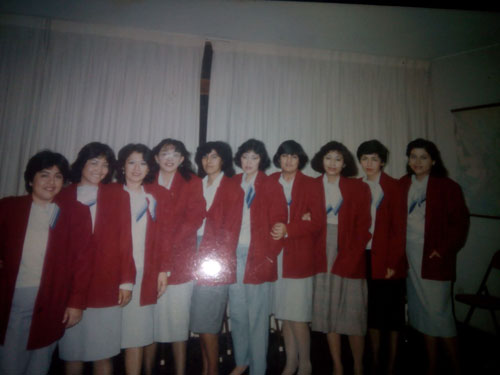 Within seven years, 15,000 loans had been awarded, with 98 percent paid back in full. The ADIM team, which had grown to 60, offered healthcare clinics with a nurse and a midwife for reproductive health education and services; legal services with a team of lawyers; and accounting and business training with a team of accountants and business administrators. Starting in the Cono Sur, the southern section of Lima's shanty towns, the organization slowly extended these services to all the poorest neighborhoods surrounding the city of Lima.
"And the neighborhoods didn't remain poor!" says Gabriela, her excitement palpable. "After two years, the women asked if the micro lending programs and other services could be extended to the men. These men and women started a market called Polvos Rosados, and instead of buildings, they sold their wares in tents."
They sold anything you can think of—jewelry, housewares, clothing, books, DVDs. Fifteen years later, the tents had become a multi-story building.
"I think this is the main success story—how these marginalized people were able to insert themselves into the socio-economic stream of the country, to gain access to money, to create jobs and provide better opportunities for their children," says Gabriela. "They ended up with better health, an understanding of their own reproductive health, and the knowledge of their constitutional rights."
A Life-Changing Invitation
As if being director of a successful nonprofit and raising a family of three children weren't enough, Gabriela was simultaneously pursuing another passion: creating better opportunities and equal rights for women CPAs in Peru. Besides founding the Committee of Women CPAs at the Association of Peruvian Certified Public Accountants, she was also pursuing a doctorate, conducting original research on the status of women CPAs in Peru, including their education, access to equal partnerships, and percentage employed.
She presented her research on Peruvian women CPAs at international conferences in many countries such as Peru, Mexico, and Canada, and presented the ADIM nonprofit model at international development conferences in Peru, Canada, Colombia, Costa Rica, El Salvador, Mexico, and the US.
One day in 1988, Gabriela received a letter from Harvard University inviting her to become a Mason Fellow to pursue a Masters in Public Administration (MPA) at the Kennedy School of Government. The prestigious Mason Fellowship is awarded to mid-career professionals worldwide who have made a considerable contribution to their countries.
After receiving her MPA in 1991, Gabriela was offered a top job as executive director for the Coolidge Center for Environmental Leadership in Boston.
She worked there for four years, but as she puts it, "I was always cherishing and remembering the work I did with the women in Peru. My heart, my heart was calling me."
The Power of the Intuitive Heart
By this time, in 1996, Gabriela had been practicing the Transcendental Meditation technique for three years after her daughter, who lives in California, recommended it.
"I was already practicing another form of meditation, but this was better for me, because it is so effortless," says Gabriela.
Gabriela credits TM with helping her to stay balanced despite her busy and stressful life. "For me meditation has been like an oasis," she says. She says it also helped develop her intuition.
"For every decision, my intuition is telling me what I need to do, telling me when it is time to move on," she says. "I cannot explain but this is clear for me."
It was her intuition that told her to take a sabbatical in 1996. "I took a year to see if there was a niche for me to do what I like most, helping the poorest women. Because I was a newcomer to the US, I didn't want to compete with existing government or private non-profit organizations. I felt that I needed to bring something different, a contribution from my experience in participatory leadership with a participant-centered approach. I also had to consider my comparative advantage, which was working with Latinas because I speak Spanish."
She felt intuitively that she would find the right place close to home, so she started exploring the towns surrounding Boston. Using the same research tools that had been so effective in Peru, she formed focus groups and met with authorities, representatives of nonprofits, students, and community women with small children.
Through her research, she found that the town of Waltham, MA, was lacking any nonprofit organizations providing services for low-income Latina immigrant women.
Next she wrote a concept paper, and before long a highly regarded nonprofit, the Education Development Center (EDC) gave her funds and three years to test her model. Her plan was to provide services such as leadership training, community organizing, ESL instruction, GED education, preschool services, and to coordinate access to psychological counseling and healthcare services from other community organizations. She started with a three-month leadership-training program in June of 1998.
Gabriela's eyes light up when she talks about the results. "Whew! These women were dynamite," she says. "They got their GEDs, went on to college, bought homes and landed jobs as teachers, childcare workers, city employees, and bank tellers. Their children have become educated and established as engineers and other professionals."
The program was so successful that the EDC gave her the opportunity to "go national." But in characteristic fashion, Gabriela looked deeper to make her decision.
"My heart told me that it takes longer than three years to bring change in a community, that I should continue in Waltham until I was ready to transfer the work to other people and organizations," she says. "As one person you have limited impact, but if you can transfer what you have created to others, then the organization can continue on forever."
So with her staff, Gabriela converted the various services of her organization into a nonprofit called Breaking Barriers, a name chosen by the women she was serving. She stayed with them until 2008, when she felt it was time to retire. At the present time, two Waltham organizations continue the work of Breaking Barriers: the Waltham Family School and Waltham Alliance to Create Housing (WATCH). The Breaking Barriers model has been presented in many conferences throughout the US.
Finding Your Mission in Life
What's next for Gabriela Canepa, who spends an hour each day biking or swimming and has so much vitality and youthful energy that I was shocked to find out she's not in her fifties, but actually in her eighth decade?
She has thought about becoming a Transcendental Meditation teacher for the Latino immigrant community where she lives in Boston, or in Vero Beach, Florida, where she spends her winters.
"Moving to a different country is very stressful," she says. "If you don't have a way to cope, to manage your stress, it's hard. I would like to teach TM in a place where I can be most useful, helping those who don't speak English and otherwise don't have access to TM teachers."
Considering her lifelong work with women, I asked Gabriela if she has any advice to give.
"I feel as women we face more obstacles than men," she says. "Yet we can get back our power and we can do it through TM. Meditation helped me to be clear in my objectives and gather the strength, the force I needed to move forward in whatever I wanted to do."
Gabriela also thinks it's important to find your unique purpose in life. "In my case, the place where I felt more comfortable was serving others. When I was seeing how women were taking their own power and running with it, I felt so satisfied and accomplished. It was just incredible. I stay in touch with most of the young women and men who were part of my team so many years ago in Peru, and it's so rewarding when I hear them say that I played an important role for them, in how they view their life and how they have lived."
She goes on to say, "If I am able to impact one life I am happy, but if I'm able to impact hundreds of lives it's a great, great blessing. I think it's important to realize that we are here to serve. We each have a mission and we just have to find out what it is."
---
Linda Egenes writes about green and healthy living and is the author of six books, including The Ramayana: A New Retelling of Valmiki's Ancient Epic—Complete and Comprehensive, co-authored with Kumuda Reddy, M.D.
More Posts by Linda