Feb 18, 2015
Classical Guitarist Sharon Isbin on Creativity and TM
---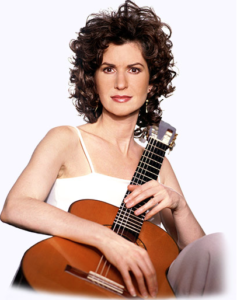 When you hear a musician play who stirs your soul and at the same time is so in command of her craft that she makes it look simple, you know you are in the presence of a true artist.
Sharon Isbin has made the intricate art of performing classical guitar look simple. Considered the leading classical guitarist of our time, she was named "Best Classical Guitarist" by Guitar Player magazine and is the first guitarist in over 43 years to receive two classical GRAMMY Awards (in 2001 and 2010). A former student of Andrès Segovia and a graduate of Yale University, she has played at the White House and Carnegie Hall. Her rise to stardom as a woman playing an instrument that is usually played by men was chronicled in Sharon Isbin: Troubador, a recent documentary on her creative performances and collaborations with artists in a variety of genres that was released last fall by American Public Television.
She has also expanded the repertoire of classical guitar, persuading leading composers such as John Corigliano to create classical guitar music for her to play with their orchestras. Called the "Monet of Classical Guitar," she is known for her ability to express different colors or emotions through her music.
For Isbin, it's all about expressing her feelings in her work. "I love to be expressive on the guitar with lyricism, dynamic contrasts, nuances, phrasing, articulation, and a panoply of colors and timbres," she says. "I cultivate these techniques to serve the music and to communicate it with feeling and emotion. For example, I can make the guitar sound like a human voice by connecting notes of a melody with nuances of sound while shaping the contour of the line as a vocalist would do. This also creates a three-dimensional quality and depth."
Isbin likens her creative process to being a director of a play. "I choose music that I love and which speaks to me, and that makes it easy to be expressive. The more I play a new work, the more I discover in it. My goal is to enter the mind of the composer, while feeling and expressing the emotion from within. In a way, I explore different characters of a piece much like actors do with a script. And when choosing dynamics and shadings to delineate the different layers and levels of voicing, architecture, and structure within a work, it's much like a director staging and guiding actors in the foreground, middle, background, etc."
As head of the guitar department at the Aspen Music Festival and The Juilliard School, Isbin has developed an original technique for teaching classical guitar. Yet she doesn't limit herself to classical music—she has embraced a musical palette that ranges from bossa-nova to jazz to folk, collaborating with other guitarists and musicians in new ways.
"I explore a variety of genres, from my home base in classical, to unusual collaborations in jazz, bossa-nova, folk, country, rock, and even film music such as performing on Scorsese's The Departed," she says. "But most important to me and to listeners is the emotion, lyricism, sensuality and passion."
For instance, her 2010 GRAMMY award-winning Journey to the New World is an exploration of folk music beginning in the 16th century British Isles, Ireland and Scotland, and crossing the ocean with the immigrants to the New World.
"Its centerpiece 'Joan Baez Suite' was written for me by John Duarte and inspired by music Baez made famous in the early part of her career. When Joan heard it, she offered to sing on the album, and performs beautiful renditions of "Wayfaring Stranger" and "Go 'Way from my Window". Virtuoso country fiddler Mark O'Connor concludes the journey joining me in the folk suite he wrote for us." At 58, Isbin is not slowing down. How does she have the energy to continually expand her repertoire and explore new ground by collaborating with so many other top artists?
It turns out she has a secret.
"I have done Transcendental Meditation since I was 17 years old," she said in a recent NY Times interview. "I do 20 minutes in the morning and 20 minutes in the afternoon. I really believe it has helped make me the person that I am. Because it is an extraordinary way to release stress and allow it to dissolve, so that you can focus on what you want to focus on, and have your energy towards very positive things."
When she performs, Isbin says she enters a state similar to the "zone" that top athletes report. "It puts me in touch with my innermost creative core and enables its expression through music," she says. "Most importantly, it facilitates instant access to a state of 'cosmic' immersion, of being in the flow or in 'the zone' when performing, a state of being very similar to one I enter daily when practicing TM. It's a sense of communion with the energy of the universe, the audience, the composer and the music, without ego or interference. It's a feeling of unity between the listeners and me, a sense of "oneness" in which we are all experiencing the beauty of the music together. That sensation is one of the reasons live performances can be so powerful—everyone is focused and transported, the experience is unique and in the moment, never to be replicated."
For Isbin, TM helps with all of the creative aspects of her work. "Because TM is so effective at eliminating stress and distraction, it encourages laser sharp focus and concentration for any task," she says. "Practicing TM has inspired heights of creativity for me on many levels: as a musician, arranger, educator, writer, and artistic director."
See a trailer of Sharon Isbin: Troubadour
---
Linda Egenes writes about green and healthy living and is the author of six books, including The Ramayana: A New Retelling of Valmiki's Ancient Epic—Complete and Comprehensive, co-authored with Kumuda Reddy, M.D.
More Posts by Linda