Jul 12, 2022
An Interview with Actress Lil Malinich
---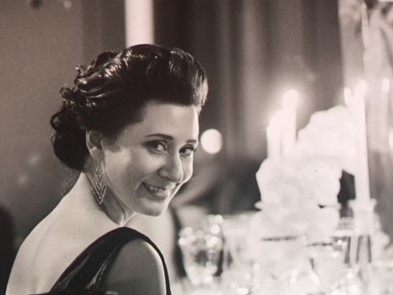 Lil Malinich is a stage, film and television actress, acting coach, director and producer from London, Ontario, who currently lives in New York. She is a core member of Broadway-affiliated theater company Working Artists Theatre Project (WAT Project) and co-founded the award-winning Canadian company Theatre Soup.
Lil's diverse body of stage work includes classic and contemporary plays as well as leading roles with WAT Project. The Deluxe Illustrated Body, a play Lil co-wrote, received the Brickendon Award for Best Original Script and was produced in NYC.
Lil has studied at the Susan Batson Studio, holds an Honors B.A in English and Dramatic Arts and a Bachelor of Education. She's taught in Canada, Paris, Rome and New York. In 2020, she directed and produced the NYC rooftop premiere of The Way I Am, a one-woman show inspired by the life and work of Barbra Streisand.
Building community is at the heart of Lil's work. She collaborated with the David Lynch Foundation in developing the NYC screening series for David Lynch's documentary Meditation, Creativity, Peace. Lil is a judge for the New York, Hollywood, Venice and Cannes Indie Shorts Awards and the acting coach at NYC's Joffrey Ballet School. Lil has coached Forest Whitaker on projects including the Netflix film Havoc, Apple TV series "Extrapolations," NBC series "Young Rock,"the feature film Heart of a Lion and currently on the Epix series "Godfather of Harlem."
Q: Thank you, Lil for taking some time to talk with TM for Women. What first drew you to performing, specifically acting?
A: Thank you for inspiring the conversation! I was really fortunate to have elementary school teachers who were passionate about their work and created opportunities for us to learn and grow as artists. Starting in fourth grade, I was part of a theater company that produced several shows each year including musicals and plays. It nurtured my love of acting, ensemble work, as well as an appreciation for all of the preparation that goes into building a production. Also, Annie is one of the first movies I saw in a cinema—Carol Burnett's comedic genius has been an inspiration ever since.
Q: What makes a role most challenging? What makes a role most believable?
A: Finding the truth of yourself in any character is the challenge. Self-awareness is really important and understanding the reasons why you and the character behave the way you/he/she does. Part of the work in the Susan Batson Method includes insight into the deepest part of yourself. This foundation in the self allows for unfolding the layers of personality such as unfulfilled need, public persona and tragic flaw (how we jam ourselves up in ways that prevent our own fulfillment) and then lifting that truth into art. Knowing how to access your emotional truth for the sake of the story without judgment, shame or fear is a skill. Once you accept these truths in yourself, you can hand them over to a character.
Q: An acting coach mentors performers to help them improve their acting skills, prepare for roles or auditions, and perhaps achieve more authenticity in their performance. Is that correct?
A: Yes, there are practical ways to approach preparing for roles and auditions. It helps to have a method in the preparation process including script breakdown and creating a detailed backstory. Clarity about the character's history, relationships and story arc are part of crafting a dynamic performance. Coaching also includes helping artists create healthy habits and routines. It requires really getting to know a person and how to communicate to them what they need to grow. Because every aspect of an actor's life goes into the work, it is important to create balance of the body, mind and spirit. And to have fun in the doing! Transcendental Meditation is a significant tool in my routine. I create a relationship of trust and ease with my clients, because I believe they do their best work when they feel free and safe.
Q: Is a love of coaching reflected in the way you conduct your work and is it the foundation for success?
A: Truly seeing and accepting a person and creating a safe and fun process for growth is a privilege. Authentic connection is very important to me. I love that art can bring people together in that deep and honest way. I also enjoy the variety of how my work takes shape including private coaching, group classes, directing and producing. It's important and exciting to continue challenging myself as well.
Q: I've read that actors experience significantly higher levels of depression, anxiety, and stress than the general population, according to a study out of the University of Sydney. Actors can suffer high levels of stress and exhaustion arising from accessing raw emotions and being present, authentic, and vulnerable.
Also stress and anxiety are caused by work-related pressures such as low income and job insecurity. Is this your experience?
A: Acting requires access to feeling. Mining that deep and fine level of feeling is like emotional olympics so it's important to take care of yourself and not live in the world of the story when you leave the stage or set, especially if the story is dark and traumatic. Working with an acting method is helpful in building the muscles to access emotional truth and then let it go. Repressed emotions in the body jam things up, so I encourage actors to trust and follow through with their instincts and flow with the emotional life of the story. Working in this industry demands perseverance, conviction, and a thick skin, as well as the courage to be vulnerable.
TM has been a very powerful tool in keeping myself steady within but, at the same time, allowing me to access my full range of emotions. It also eliminates stress and anxiety. TM has been invaluable for me in quieting the noise of ego and fear and lessening the stress of living in NYC. It's helped sharpen my intuition, so I know how to move through challenges when they arise and stay true to who I am.
Q: What was your initial experience of the TM technique when you learned it? What cumulative benefits have you noticed in your work… and personally?
A: My initial experience of the TM technique felt like I was given the master key to drop into that safe transcendent space within anytime. It was a relief and felt like home. I knew that the development of consciousness was one of the benefits of practicing TM and it's been fascinating to experience that in myself. It happens subtly over time and makes everything in life, including work and relationships, more rich and meaningful.
Go deep within to develop emotional stability and flexibility: Contact a TM teacher
---
Janet Hoffman is the executive director of TM for Women Professionals, a division of TM for Women in the USA
More Posts by Janet