May 9, 2016
Women, Wisdom and the World
---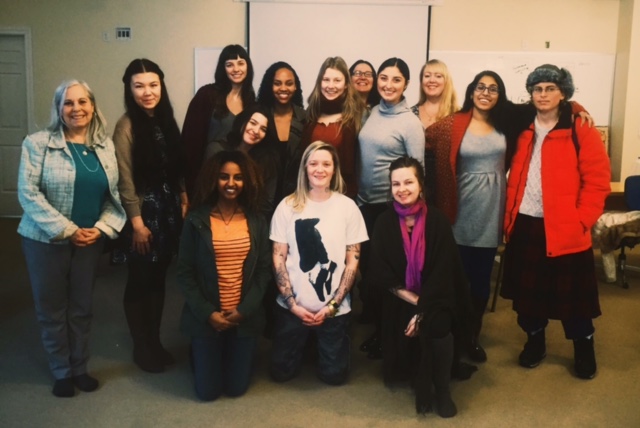 Last February, seventeen women students at Maharishi University of Management (MUM) gathered for a special course called "Women, Wisdom and the World." Taught by Leslee Goldstein, Ph.D., and Percilla Herrera, the two-week course focused on the role of women historically, in the present, and in a more perfect future.
One of the unique features of MUM is that the students practice the Transcendental Meditation technique twice daily, which has been shown by research to reduce stress, create greater mental clarity, boost academic performance, improve social relationships, and heighten self-esteem.
Here Dr. Goldstein and some of the students talk about the course and how it has helped them to grow in their role as women in the modern world.
Q: Can you briefly describe the course?
Dr. Goldstein: The goal of the course was to allow students to take a look at themselves as women in a deeper way, to grow in appreciation of themselves as women and their relationship with others and the world.
We studied the concept of the divine feminine qualities, as found in different cultures around the world, and asked ourselves, "What is the essence of being a woman?" We looked at this in terms of historical views and interpretations of the feminine quality, which is the creative force of life, in nature, and in our own lives.
We also reviewed the history of women's empowerment and the challenges facing women throughout history and today. Finally, we studied the work of the Indian environmentalist and author Vandana Shiva and the connection of women and nature—not just in terms of our own nature, the creative force of life—but also in in terms of the practical and historical implications of women's positive role in agriculture and farming. We explored how, by restoring balance within ourselves, women around the world can become a powerful force for creating balance in our world family and the ecosystem of our planet.
Q: That's quite an amazing endeavor. Did you come to any conclusions?

Dr. Goldstein: Many themes emerged from our discussions. We discussed how as women, we all need to nourish ourselves from the deepest level, the transcendental level, to be the clearest and most beautiful embodiment of the feminine quality and to have the greatest impact on our own life and the world.
We explored what it means to have power, in terms of looking at our role in the world and the challenges facing women. We asked ourselves: What is true power in life? What does it mean to be a powerful woman? Does it mean we become like men—that we take on these male qualities?
The goal was to take a deep look at our unique feminine qualities and explore the source of our power both as women and as human beings. We examined that source of power within ourselves—the transcendental field of intelligence, happiness, energy, and creativity—that resides within each of us and that we access when we practice the TM technique. We discovered that this transcendental field is our source of power and at the same time our source of tenderness.
The main theme that emerged was partnership. In our discussion of power we looked at models from the past, and we discovered that we were interested in studying the partnership model of sharing power, focusing on reciprocal empowerment. We asked ourselves, "How do we make a better world by creating partnerships and strengthening relationships?"
Q: What were some of the practical results of this class?

Dr. Goldstein: Students reported that the class resulted in great expansion and transformation—because they were looking at themselves in a new and expanded way. A lot of students said they gained a greater appreciation of themselves as women. They were able to reflect on those things about themselves that they really liked, their unique strengths, and the gifts they have to help others. So some of the students experienced inner transformations.
On a practical level, some of the business students said they felt a greater sense of clarity, a clearer direction, and a greater ability to move forward with their projects. They felt more confidence and ability to succeed in their careers.
Some found that they were able to resolve important issues in their families. They felt that by tuning in to this soft yet powerful place within themselves—both in their TM practice and by exploring it intellectually—they felt a new confidence in their ability to heal relationships in their lives.
Q: It must have been a bonding experience.

Dr. Goldstein: Yes, definitely. The wonderful thing about MUM is that the student body is so diverse. In our class the students represented several different majors, including sustainable living, media and communications, physiology, business, and art. Ranging in age from 18–50, the students also represented different ethnic groups in America as well as different countries, including India, Ethiopia, and Poland. None of these students knew each other before the class.
The course provided a beautiful space for students to feel open and think deeply about the issues and the concepts we were discussing. They were able to share deeply with one another, and to relate the principles we discussed in class to their own personal experience in their daily life and in their TM practice as well. It was a real opportunity for students to get to know themselves better and to connect with other women in a deeper way than they might in a normal academic class.
Q: I understand that MUM has been ranked #36 among the best colleges for diversity nationwide by College Factual, a website that uses customizable tools and outcomes-based rankings systems to guide students through the college selection process. How does the practice of Transcendental Meditation, the cornerstone of the MUM experience, help to create an inclusive attitude toward all people on campus?
Dr. Goldstein: At MUM, students experience the unified field of consciousness, that place of wholeness within, when they practice the Transcendental Meditation technique. It's a source of unity and harmony that every person can experience.
Even though the unified field of consciousness is the same universal field of intelligence and creativity within all of us, when a student starts contacting it on a regular basis through the Transcendental Meditation technique, this experience creates a beautiful flourishing and nourishing of individual life so that all of our diverse qualities are enriched. Like a tree in a forest—when the root of the tree is watered, that root, that source of nourishment, is made lively and nourishes the range of diversity of leaves, bark, seeds, and flowers of the entire tree. And this is especially important for a woman in today's world, to be able to flourish in her individuality by connecting to that unified value within her.
So that's what we culture at MUM. When a student is able to meditate and experience that unified value of consciousness within her, it forms the basis for creating harmony amidst the differences, or perceiving unity within diversity.
Q: What are some of the challenges facing women on college campuses today and how does a course like this help women meet those challenges?
Dr. Goldstein: I hear from my students that it's important for young woman to feel safe, to feel that they are heard, to feel respected for everything that they are. And related to that, many college-age women feel the need to form healthier relationships. They want to bring their best self to the table.
And I think that's what an MUM education helps to culture. Practicing the Transcendental Meditation technique helps every woman develop her best self, by dissolving stress and allowing the inner potential to blossom. Courses such as this one help women to gain an even greater appreciation of themselves, and to develop their inner resources so they can bring the most to their relationships and their careers.
These are real issues on every college campus today—young women need to feel self-love, self-confidence, and self-esteem to succeed both in their careers and in their relationships.
Q: I'd like to turn to two students to share their experiences in the class. Interestingly, both students talked about growing in connection—to their inner source of happiness and power inside and to other women in the class and the entire world family.
Hannah Foster, BFA in Fine Arts, age 26: "I believe that women in college are at an extremely vulnerable age, as are most typical students coming out of high school. They are still discovering who they are and who they want to be. I call it a 'second birth,' the birth into adulthood.
I think a big thing that's missing in our society is the connection between generations. What I found truly inspiring is that classes exist where women of all ages are able to express themselves and find support and acceptance from one another. The "Women, Wisdom, and the World" class gave me a connection with women of all types, all with different likes, dislikes, traumas, experiences. To have a safe space to talk about these things allowed for a depth of understanding of each other that I had never experienced in a group setting. What grew in me was the desire to facilitate the same type of love and connection with groups of women wherever I go. Connection is what the world needs more of, and I believe the strength and compassion of women can provide a lasting effect on our world."
Norah Fabek, age 28: In this course we talked about women taking a leadership role to help others in the world. One of the greatest things is that with the Transcendental Meditation technique, we don't have to try to be more connected or become a better leader. It happens from the inside out. That's where change takes place anyway, and that's where TM operates. With TM, your perception naturally leaps into something bigger, into something larger than yourself, and you begin to think from there in an effortless way.
It's effortless. It's not like you have to think OK, this is right or this is wrong, and this is a better way to think, or OK, let me start thinking globally or universally. No, it just happens. You're more aware of your connection to others around you, and you want to make things better.
As human beings, we want that connection to our inner self—and when we have that, we're satisfied and happy and we enjoy and grow and develop. And we do whatever our soul and body is supposed to be doing, or what we want to do. It's kind of like being connected to your guiding light. Without it things go haywire, even with the best of intentions. I experienced that lack of connection when I was growing up, and when I started TM, I knew I had found it.
---
Linda Egenes writes about green and healthy living and is the author of six books, including The Ramayana: A New Retelling of Valmiki's Ancient Epic—Complete and Comprehensive, co-authored with Kumuda Reddy, M.D.
More Posts by Linda