Sep 12, 2022
What are you Wearing? The Fabric of our Lives: Lucia Kennerly on Consciousness, Sustainability, and Nature
---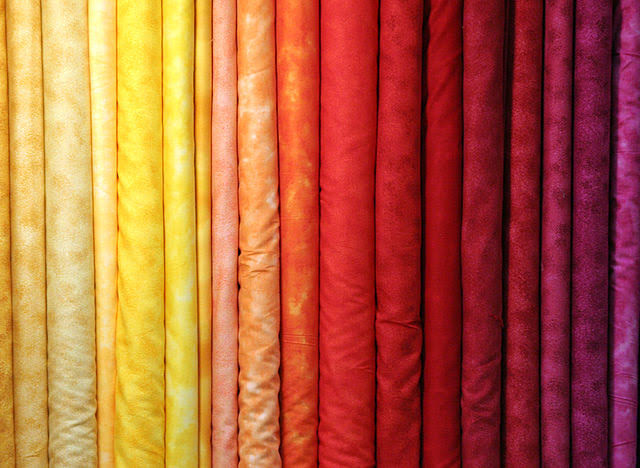 Lucia Kennerly lives in Greensboro, North Carolina. Although she recently retired as Director of Product Development for a fabric industry leader called Mayer Fabrics, she sees herself as being in a transition rather than retired. Lucia is an expert in the field of sustainability in textiles as well as in educating others about the history, benefits and future of eco-friendly textiles. She is also adept at creating and writing about biophilic design—connecting people with elements of nature in man-made spaces.
Q: Lucia, thanks so much for taking the time to answer our questions. First, although fabric surrounds us in everyday life in endless ways, most people don't make a career in this field. What motivated you?
A: During the early 1980's I became acquainted with the textile industry through my husband and his business associates. We started a small textiles sales and distributorship in 1985 and I learned a great deal about the design and manufacturing of residential and commercial fabrics for application in interior spaces. In 1991, I started my own company. Fast forward, around 1991, I launched Lucia Cassa, a small boutique fabric company that offered decorative commercial upholstery fabrics primarily to banks and hotels.
In 1997, I met Shashi Caan and we created a small textile line called Shashi Caan Textiles. My experience with Shashi was a rich and rewarding experience, during which I realized that my expertise in business was overshadowed by my interest in the creative aspects of textiles, i.e., design and development. In 2002, Mayer Fabrics purchased Lucia Cassa—I chose to work for Mayer Fabrics and spent 21 years as the Director of Product Development for the Lucia Cassa brand as well as other Mayer product categories.
Q: How did you become interested in biophilic design and sustainable fabric? And please tell us how it differs from ordinary fabric, such as in clothing or drapes or upholstery we might buy.
A: My interest in sustainable fabrics evolved while working in the commercial fabrics industry, which laid an excellent foundation for my future projects. For our industry in general, the work of innovative changemakers such as Ray Anderson of Interface set the stage for a paradigm shift toward key sustainable practices such as recycling both pre-and post-consumer waste. Anderson partnered with biomimicry pioneer Janine Benyus who introduced us to the idea of designing products based on nature's intelligence. Industry leaders also embraced the Cradle to Cradle (or C2C) concepts of William McDonough and Michael Braungart that waste should equal food, as in nature. Meanwhile, customer demand led me to develop textiles made from recycled materials—primarily synthetics—polyester and nylon. But my passion has always been with textiles from natural fibers and their potential as eco-friendly options. While working for Mayer Fabrics, one of my favorite projects was creating a collection called "New Earth" from clean, compostable wool.
Biophilic design as a science and a practice is fascinating because its intent is to integrate us with nature in a variety of ways, including the use of fractals—or nature's organizing patterns that can be interpreted in textile designs. We are seeing these biophilic design ideas such as fractal-inspired patterns in the textiles for apparel and home interiors.
Q: Are manufacturing and shopping becoming more nature friendly?
A: Yes, sustainability in textiles is no longer just a trend. Recycled and organic content for blue jeans and clothing, in general, is now commonplace. As consumers, we now have better choices as forward-thinking manufacturers know that fast fashion is no longer an option due to excessive landfill waste, pollution, and increasing exhaustion of our natural resources.
Q: How does using sustainable fabric affect the environment when its fibers are cultivated and also in a man-made setting?
A: Fabrics made from recycled post-consumer plastics, which are now being recovered from both land and ocean, keep us from producing virgin polyester thus reducing carbon emissions from manufacturing and processing during a fabric's life cycle. Ideally, when the useful life of the fabric in a man-made setting has ended, the fabric would be recycled again. Unfortunately, this isn't happening—however, there are programs underway to improve textile take-back and recycling so most of the textiles still end up in landfills or incinerated.
Cotton, which requires extreme amounts of pesticides for growing and tremendous quantities of water for processing, is now being grown organically as well as being recycled in order to make it a feasible long-term/sustainable fiber option. Other bio-based fibers are emerging as what some are calling the new natural, e.g., mycelium root fabrics, algae, and textiles made from agricultural waste. These new fiber developments also show promise in the area of sustainability. Perhaps, just as importantly, the reduction of added chemicals found in stain repellents and flame retardant finishes makes our textiles healthier for people and the planet.
Q: When did you learn the Transcendental Meditation technique? Please describe your experience.
A: I learned TM around 2016. My first experiences were life-changing, as I was able to "transcend" almost immediately and experience a more "refined state" of consciousness than I was aware of having experienced before. 
Not long after I learned to meditate, I had to give a presentation to a large group of people at a business meeting and I was nervous and apprehensive. I took a little time out and meditated before the meeting and, to my delight, all my nervousness had dissipated and I felt confident and assured.
Q: How did your experience during TM of the nature of life within yourself connect with nature around us—and how did that affect your creativity and work?
A: I began to see sustainability as it relates to textiles as the most important driver of my work. Regarding TM and its impact on what I perceive as my evolution toward higher levels of awareness: after I learned the TM technique, I began the Sustainability-based MBA program at Maharishi International University. My experiences with TM and MIU have been life-altering in terms of my evolution both personally and professionally. While I knew beforehand that there was more to be experienced of infinite intelligence, only after learning the practice of TM was I able to directly experience that growth within myself as well as the power of its manifestation in life.
I graduated with newfound knowledge and enthusiasm in this area. I was able to bring this knowledge to Mayer by spearheading more environmentally responsible product development and sustainability education work for our team and customers.
In 2021 we launched a CEU course that I authored and co-created, called "Natural Steps in the Evolution of Textiles – Exploring bio-inspired textiles throughout history with considerations for a sustainable future." Here is an article I wrote on the topic that was published in 2021.I believe that my experience with TM and MIU led me to the profound relationship between nature with human sustainability.
Get In Tune with Nature: Learn the TM Technique
---
Janet Hoffman is the executive director of TM for Women Professionals, a division of TM for Women in the USA
More Posts by Janet