Apr 23, 2015
Turning Fear Into Love: A Mother Tells Her Story
---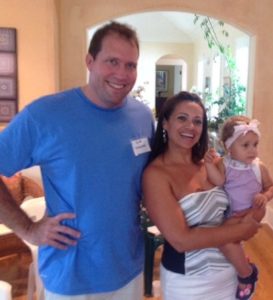 When you meet someone as happy and radiant as Flavia Finnegan, wife, mother and career woman, it's hard to imagine that she ever felt fear or trauma. Yet traumatic events can happen to anyone.
Flavia, now 40, grew up in Brazil and as part of her undergraduate work as an international business major, she spent a year studying in Stockholm. "I felt safe and protected there," she says. "I loved learning in a completely new environment, experiencing different food and colors and weather. I felt blessed to have those experiences."
Riding a wave of achievement and on a fast-paced career track, her next stop was an internship in the financial district of New York City. She arrived in 2000—just in time for the terrorist attacks of September 2001.
"I was living and working close to the World Trade Center and it was a very frightening experience. I saw people afraid to open their mailbox for fear of a bomb being inside. I went from living in a safe environment to that time in history. It was a big shock and in terms of interacting with others I became fragile, afraid of what could happen the next day. I felt so vulnerable."
Two years later, she returned to Brazil. But even living in her home country didn't make her feel safe. "I wasn't the same me anymore," Flavia says. "I had anxiety attacks and panic attacks. I started looking for a different type of lifestyle that would give me the inner strength and stability to deal with my fears of the outside environment."
In her quest to change her life, Flavia began practicing yoga and eating healthy foods. She had heard about the Transcendental Meditation technique and knew that many prominent people practiced it, but, as she puts it, "the message had never reached my heart." Then she heard a famous surfer from Brazil share how the practice of TM had made him feel more connected with his environment, with nature.
"It had a big impact on me," she says. "I could see that he had to be deeply connected with his surroundings to swim into the middle of the sea, amidst sharks and other predators, and to survive five- or six-story-high waves. I could feel that he felt safe and secure inside, and his story touched me at a deep level."
Flavia continues, "I realized immediately that this was what I was looking for: a different type of connection with my environment. I knew I had to get over my fear and anxiety of living in big cities, where you don't know if the next person you meet is going to make your day shine or affect your life in a negative way."
After getting in touch with the TM Center in Sao Paulo, Flavia learned to practice TM. "TM came to me as a gift," she says. "Learning to meditate took me to another level. I'm very grateful. I started to experience an untroubled state of mind, an inner security and freedom from anxiety. I started to feel that whatever happened each day, the big and the small, I could be happy for being alive and experiencing the sun and wind and the people around me that contributed to that moment. TM gave me the inner calm to enjoy every moment."
Flavia also credits TM with giving her the courage to become a mother. She says that before she started meditating, even though she was married to a wonderful man, she didn't think she wanted to raise a child in this world.
She says, "Practicing TM gave me the confidence to see the future with more optimism. It helped me to center myself, to embrace myself and others with a full heart, with openness again. When you experience your divine source within you, you begin to see other human beings as you are—a body full of high energy with a perfect being inside. After all, we all have a body that can self-heal; we all have a mind that is infinitely creative. Once you have that awareness, you see a reflection of yourself in everyone. I walked many miles to cross that bridge to motherhood and TM helped me with that."
Flavia practiced meditation regularly during her pregnancy, which she says helped her to enjoy the many changes taking place inside her. "When you're pregnant for the first time, your mind and body go through a lot of change. Nature takes the time to prepare you. It's a cosmic journey but with all the ups and downs in hormones and transformations, it can be challenging. TM had such a great impact on me—it helped me rest deeply and made me feel so tranquil."
Flavia feels that practicing TM also had a calming effect on her daughter, now 18 months. "Every time I meditated when she was in the womb, I could feel her becoming very peaceful. Since birth she has been contented and likes to smile and loves music," she says. "She's a bubble of happiness."
Today Flavia is enjoying her role as a mother, wife and career woman. After years of working as a financial manager for Citigroup in Miami, she now is studying part-time to be a CPA. Flavia no longer has a fear of her environment or the people around her. She notes that once she started practicing TM, she started attracting more positive people and experiences into her life.
"Once you experience inner peace in your life, you start to radiate joy and everyone wants to be closer to you," she says. "You naturally attract more love into your life and your relationships become even more loving. Either you are helping someone or they are helping you. With meditation, somehow there is more joy inside you and more joy for everyone around you. This is true for professional connections, for better friendships, for better health, for better family life. It's a beautiful path, to have TM enriching all the moments of my life."
She also says she is no longer afraid of the challenges her child will face in the world, as she was before she started TM. Her fear of others has transformed into love.
"I went from being very insecure to being much stronger and more confident inside, and I started experiencing unconditional love toward everyone and everything, all creatures on earth," she says. "It's my perception more and more that we all come from the same divine source. Wishing love for my daughter and husband becomes unconditional love for all. It becomes so unbounded and extends to all the children I see on the street. And I want my daughter to experience the best of everything—to gain knowledge, to travel, to experience new people and to love those around her."
Flavia says, "I hope my story will reach someone who is in pain or in fear for some reason. Once you start TM you can face the world with a much better attitude. TM gives you that time you need to recharge, open up your eyes and express your love again. If there is someone who has been stressed to such a level that she has lost her base, lost her hope—like me, she can strengthen her base. I hope my story touches someone who is looking for a way to reach that inner peace, that inner life."
---
Linda Egenes writes about green and healthy living and is the author of six books, including The Ramayana: A New Retelling of Valmiki's Ancient Epic—Complete and Comprehensive, co-authored with Kumuda Reddy, M.D.
More Posts by Linda