Jun 6, 2013
TM Offers Relief for PTSD, Homelessness of Female Vets
---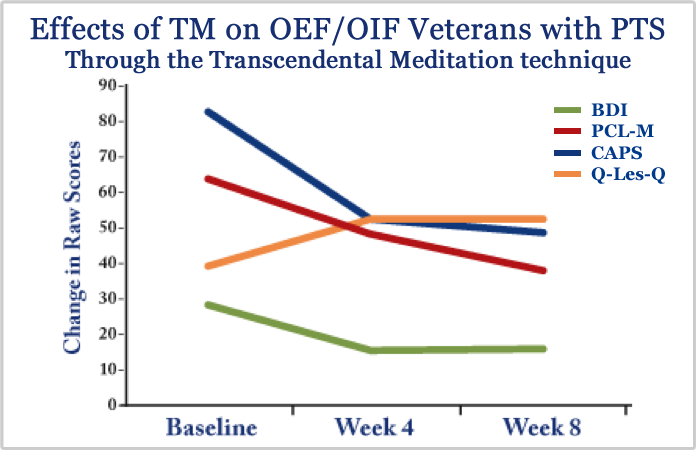 As the number of women in the military increases, the number of returning female vets who end up homeless is also soaring. According to a recent NY Times article by Patricia Leigh Brown, of those veterans staying in homeless shelters, 10 percent were women in 2011, up from 7.5 percent in 2009. In California, where one fourth of our nation's veterans live, there has been a 50 percent increase in homeless women since 2009.
While homelessness among male veterans often results from PTSD and drug usage, women vets face additional challenges. Sadly, the path of many women from active duty to homelessness starts with military sexual abuse, resulting in severe PTSD and a downward spiral into drug usage, joblessness and homelessness, the article reports. Other issues specific to women increase the chances of homelessness—the higher percentage of women who are single parents, for instance.
Fortunately, many women vets are turning to a safe and effective way to heal PTSD and empower themselves to start a new life. Supriya Vidic served for six years in South Korea and Iraq, where she was promoted to sergeant by age 22. Later she worked in the signal corp as a telecommunications officer in the U.S. Embassy in Iraq and as project manager for her unit.
Despite her success, Supriya says that as a woman she was affected by combat stress in ways that were not always recognized.
"While in Iraq, for weeks on end, a single hour would not pass without being bombed by mortars and rockets," she says. "This level of combat stress affected my physiology to the point of changing my reproductive system."
As a leader, Supriya helped the female soldiers that she served beside deal with issues such as balancing motherhood with active duty, and dealing with military sexual harassment and assault.
"We're trained as women in the military to see no difference between ourselves and our male counterparts," she says. "But the truth is it's a very complex process, to balance being a woman with being a soldier."
After leaving the army, Supriya noticed that her friends and fellow vets were experiencing a rough transition into civilian life, spiraling into alcohol abuse and despair. Looking for a better way to live, she learned the Transcendental Meditation technique and attended Maharishi University of Management.
"I had witnessed first-hand how PTSD affected many of the soldiers I was in charge of," she says. "It wasn't always that easy for me to deal with those who had been so severely affected by stress. It wasn't until I learned TM and saw my own compassion and humanity unfold that I realized how stress affected me and how stress affected others at all levels."
As part of her studies, Supriya worked with veterans who had learned TM. "The transformations I saw in those veterans when they learned the TM technique were so powerful, so deeply moving, that it created a profound transformation within me as well," she says. "That's when I realized, I have to become a TM teacher."
Supriya now teaches the TM technique in New York City.
"Being involved with teaching the TM technique, I have witnessed the transformation of many individuals, and this gives me hope for the future of our country," says Supriya.
---
Linda Egenes writes about green and healthy living and is the author of six books, including The Ramayana: A New Retelling of Valmiki's Ancient Epic—Complete and Comprehensive, co-authored with Kumuda Reddy, M.D.
More Posts by Linda