Jun 9, 2016
Stress-Free Menopause: An Interview with Ellen Dolgen
---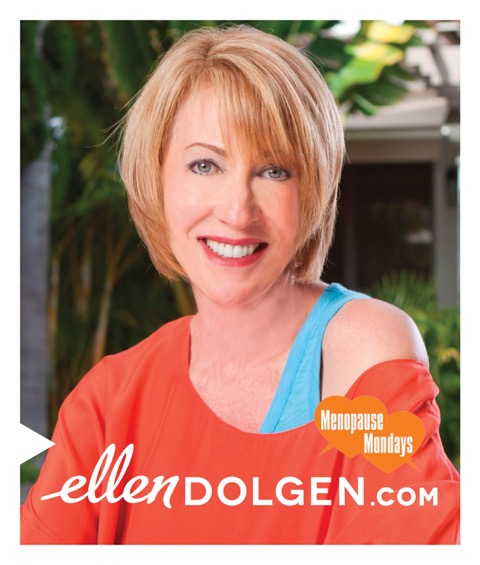 Ellen Dolgen has devoted the last ten years of her life to helping other women through the often difficult transition of menopause. With her many TV appearances, Menopause Mondays blog posts, books, and social media outreach, she has helped millions of women experience a healthier and happier life transition. Here she talks about the Transcendental Meditation technique and other simple, natural ways to reduce stress and experience a healthier menopause.
What inspired you to start this journey?
Ellen Dogen: I was completely unprepared for perimenopause and menopause. I was in my mid-40's in the middle of a business meeting when I experienced my first symptom, brain fog! I couldn't seem to grab thoughts from my brain, and my mind would go blank mid-sentence. At first, I thought I was in the early stages of Alzheimer's disease or dementia. Not long after that, insomnia set in, as well as emotional highs and lows, and then those (not-so-hot) hot flashes! Frankly, I thought an alien had taken over my body. I wasn't sure that I would ever get it back. My personal experience spurred me to write my first book, then my second, and my third, which is a free eBook, MENOPAUSE MONDAYS The Girlfriend's Guide to Surviving and Thriving During Perimenopause and Menopause. I have devoted the last ten years of my life to helping to make sure that women are educated, prepared, and pro-active about their menopausal journeys. I interview doctors and scientists about this topic and share the keys to this menopause kingdom with the sisterhood.
What are some of the challenges that women face during perimenopause and menopause, and are these symptoms made worse by the stress of modern life?
Ellen Dogen: Stress and menopause can make for an endless anxiety-riddled loop! That is why it is so important to be educated and prepared for perimenopause and menopause. This way a woman can be proactive about her health, as opposed to reactive. Perimenopause comes unscheduled, uninvited, and often sooner than we think! There is no one-size-fits-all menopausal journey. To help prepare women, I created a Menopause Symptoms Chart. This chart helps women understand the various symptoms associated with perimenopause and menopause. I recommend that women use this chart to help track their symptoms. It is designed to be a guide that helps a woman explain her symptoms to a menopause specialist. Fill out the chart every day! This will make it easier for a doctor to create an individualized treatment plan to fit each women's health needs. To help keep up with the latest studies and information on menopause and women's health, sign up for my Menopause Mondays blog. My goal is to help women become their own best health advocate.
How can the Transcendental Meditation technique help women experience a healthier menopause?
Ellen Dolgen: The various stages of menopause can affect your emotional as well as your physical wellbeing. When your hormones begin to plummet, you may find that you aren't functioning well. Then suddenly you are no longer Sleeping Beauty, and in fact, even the sweetest Disney character makes you hostile! There are many emotional changes that may occur as well, such as depression, anxiety, and mood swings. Meditation can help ease some of these symptoms.
How does your practice of the TM technique help you feel healthier and stress-free?
Ellen Dolgen: I find my 20-minute meditation in the morning and evening so important to my overall well-being! I have to admit, I was reticent at first. How was I ever going to sit and do nothing for 20 min???? Once you feel the calmness that floods over you, you crave your meditation time. This feeling of calm helps my focus, boosts my creativity, and my sleep!
Are there any other simple, natural recommendations for menopause that you would also like to share?
Ellen Dolgen: There are many natural, simple ways that can help your menopausal symptoms, such as eat healthy, exercise, quit smoking, and manage your stress. I eat the Weight Watchers-esque—more fruits and vegetables, small portions of protein. I like to change up my exercise throughout the week . . . two days a week I walk with a girlfriend, two days a week I do resistance training. I look forward to my weekend bike rides with my husband. For stress relief, I try to do my TM every day, but I have to admit there are days when David has to peel me from my desk chair to go meditate. My Type A personality hasn't changed but thanks to TM, my stress level and quality of life has.
Can women truly feel healthier and stronger after menopause than ever before?
Ellen Dolgen: Women are generally more comfortable taking care of others. Put yourself on your own To Do List! It is important to take good care of YOU! When you do, you can feel great in menopause and beyond! I am approaching my 63rd birthday and I feel great!
Here are three important things to remember on your menopausal journey:
1. You are not alone! (According to ACOG—American Congress of Obstetricians and Gynecologists—an estimated 6,000 US women reach menopause every day. It is estimated that by the year 2020, the number of women who will be older than 55 is 46 million.)
2. Trust how you feel. (You know when you don't feel well.)
3. Reach out and get the help you need and deserve!
My Motto: Suffering in silence is OUT! Reaching out is IN!
Read Ellen Dolgen's personal story of starting the Transcendental Meditation technique here.
---
Linda Egenes writes about green and healthy living and is the author of six books, including The Ramayana: A New Retelling of Valmiki's Ancient Epic—Complete and Comprehensive, co-authored with Kumuda Reddy, M.D.
More Posts by Linda