Oct 10, 2016
Promila Bahadur: Empowering Girls and Women through Computer Literacy
---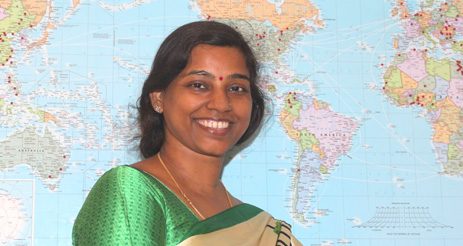 When Promila Bahadur was a child growing up in Lucknow, India, she learned at an early age to help those less fortunate.
"One time a servant came to me and asked me for food," she says. "I was only 10 years old, so I told her I had to ask my mother for permission and to come back later. When my father heard what happened, he said, "You don't know what hunger is like! You must always feed someone who asks for food."
Promila was a bright girl who decided early on that she wanted to get an education. She taught herself to use a computer at age 14, and by age 22, she was teaching courses at a computer institute to support her M.C.A. studies at Indira Gandhi Open University.
Then she visited a village called Nizampur Malhaur, Chinhat, Lucknow that changed her life.
"Through a family friend, I came to know about a poor rural village where there was widespread illiteracy, especially among the girls," she says. "I had never seen the darker side of life, where people didn't have access to very basic things, or basic opportunities to learn and make your life better."
Promila realized that she could help the children of the village, especially the girls. She brought her computer there, and started teaching three girls and two boys basic computer skills.
"In this predominantly Muslim village, where the girls marry young and have no higher education, I didn't know if the parents would let their daughters come out to learn," she said. But the parents trusted Promila, and more girls kept coming as well as the boys.
"I saw happiness on their faces," she says. "Before long their confidence was growing and they were getting jobs."
By 2004, Promila had bought more computers, rented an office space for $70 per month, and established an education center for young students of both genders, village women and the elderly. Today the Guru Institute of Information Technology has trained and awarded diploma certificates to more than 2000 students. The entire 3000-square foot facility—with 25 computers, 75 students and a staff of three instructors—is funded by Promila from her own teaching salary.
Most of the students who come to the Institute have already finished their high school studies, and learn computer and programming skills (depending on their aptitude and skill levels) for one or two years. Graduates have found jobs as computer teachers, computer executives, graphic designers, and programmers.
Now the people of the village not only support her, but children from other communities attend the institute as well. The government of India has recognized her work with awards and a special designation for starting a Common Service Center for improving the day-to-day needs of rural Indians.
"It's like watching caterpillars change into butterflies," says Promila, who has the satisfaction of seeing children who had no prospects for an education now working in high-level government jobs.
Promila's face lights up when she describes the changes in the girls who have attended her Institute. "Shabi was so nervous that she could barely speak," says Promila. "She has grown so much in confidence that she is now teaching children computer skills from her home."
Promila tells the story of another girl, Uzma Irfaan. "Uzma started attending our Institute eleven years back while she was still in high school. Generally, orthodox Muslim families do not permit their daughters to pursue higher education, but her father, a farmer, approached me and asked for suggestions for his daughter's future education. On my suggestion, Uzma earned her undergraduate degree in Computer Science and later earned a masters in Business Management. She is currently teaching professional courses in our Institute."
"The motivation for doing this comes from the fact that God has bestowed the power of creativity on women," says Promila. "In India they say your mother is your first teacher. I also remember the words of my high school teacher, who said, 'A literate mother gives a literate society.' I started realizing at that young age that women's empowerment is a must."
Developing Inner Consciousness
Herself an example of women's empowerment, Promila says her father was a driving force in her life, encouraging her in her career. "I was raised the same way most girls in America are raised," she says. "My family always supported me to do whatever I wanted to do," she says.
And she certainly set out to accomplish a lot. At the same time that she was teaching at the university level and pursuing her passion to help young girls and boys climb out of poverty by establishing her institute, Promila continued her own pursuit of higher education. In 2004 she graduated from the University of Lucknow with MCA and MTech degrees in computer education, and in December 2012 she earned her PhD. in computer research from Uttarkhand Technical University.
During those years she also married her husband, Dharmendra, an IT manager, and they had two beautiful children together, son Chaitayna, age six, and daughter Paavni, who was born the month after Promila earned her Ph.D.
The year 2012 was a pivotal year in other ways—Promila also learned the Transcendental Meditation technique. "TM helps me with my teaching because it helps me maintain calm, have more clarity and better insight," says Promila. "It helps me to concentrate and focus."
Promila also points out that it's natural for a seed to grow into a tree, for human life to blossom. "Everyone desires more and more happiness in their lives, and TM gives you that," she says. "At the same time it helps you discover your Self. As you say in the West, 'Know thyself.' All the answers are found inside you."
Promila found TM to be so empowering that she decided to accept a faculty position at Maharishi University of Management in Fairfield, IA, a school where all the students, staff and faculty practice the TM technique to unfold their inner potential. Even though her husband couldn't leave his job for the first year, she arrived in the US during the fall of 2015 with her children and mother.
"When we came here it was very challenging to teach and take care of the children at the same time, but because my mother was with me, that is why I was able to sail through that time," she says. "Having so many responsibilities, teaching and research—my mother is like a pillar to me."
Dreams for Future
Even though she can no longer teach at her institute while teaching and living in the U.S., it remains her great passion. She contributes 30-40% of her teaching salary to keep the Guru Institute of Information running. Before returning to India with her children this past June, she heard that a local school had six used computers for sale. She purchased them and hand-carried them back to India for the village and Education Center.
She also continues as a director, and is in touch by Skype with the faculty every day. In fact, she has plans for expansion.
"I was raised by my family to believe that education should be free for all children," she says. Seeing that so many rural children near Lucknow still grow up without an education, especially girls, she wants to change that by establishing one computer education hub among a cluster of six Indian villages. This hub will also cater to general day-to-day needs apart from imparting computer education: providing students and villagers with medicine, a banking facility, an ATM, general insurance, etc. This hub might also make farmers more informed about new technologies and ways of organic farming. Farmers could be informed how, where, and at what price they should sell their produce.
"I am always thinking what can I do to help these children feel more happy," she says. "Education is a tool. With education, the children can grow up to make a better living and provide proper food and simple, modern homes for their children, thus increasing happiness."
Promila also wants to provide an education to the women of the villages surrounding Lucknow, who typically earn a living doing a traditional style of embroidery by hand called chicken kari. "If these women were computer literate, they could earn better prices for the things they create with so much hard work," she says.
There is one missing element that Promila wants to include in her computer hub: the practice of Transcendental Meditation. "TM allows you to unfold many new things from inside yourself. You can see the happiness in a child's faces when he or she practices TM."
She says, "Whatever the problems in the world today, they are due to lack of education, lack of knowledge. You never know where education can take you. It gives you wings, and those wings can take you anywhere. At the same time, you need to unfold the inner values, and TM does that. It helps you become a better human being."
---
Linda Egenes writes about green and healthy living and is the author of six books, including The Ramayana: A New Retelling of Valmiki's Ancient Epic—Complete and Comprehensive, co-authored with Kumuda Reddy, M.D.
More Posts by Linda