Aug 26, 2015
Photographer Juliet Jarmosco, Career Mom of Six, Finds Dream Job and Inner Peace
---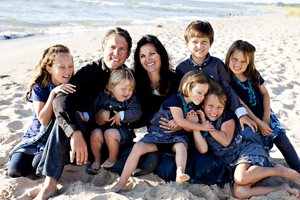 A few years ago, Juliet Biros Jarmosco was a corporate working mom in her 30s living a fast-paced life.
"It all looked perfect from the outside, like my husband, Darryl, and I were living the American Dream," she says. At that time the Jarmoscos had four beautiful children under the age of seven (now they have six), were spending time in Hawaii, and lived in a 4000-square-foot house on an acre of land a mile from Lake Michigan.
Yet Juliet felt that something important was lacking. "I realize now that I was missing out on the true meaning of life," she says. "I was caught in the quest for bigger, better, and more to attain happiness. But even though externally things seemed to be perfect, I was slowly realizing that all the external riches in the world couldn't create the internal peace and contentment I was seeking. If anything, it created more pressure and stress to keep up the lifestyle we had created."
Like many working moms today, Juliet felt that she wasn't giving enough to her work or to her family. Waking up at five in the morning to work out, shower, and prepare for work was starting to feel tiring and unfulfilling. The Jarmoscos were homeschooling their oldest kids, so in the early morning Juliet was also reading curriculum and trying to figure out what needed to be done each day. Then she'd go to work as a dental consultant for Patterson Dental Supply Company, calling on loyal customers of fifteen years. In the evenings, she would go out to do a photo shoot (her side-passion), come home, help her husband put the kids to bed, then prepare for the next day's proposals.
Juliet's husband was running his own business of life coaching and motivational speaking, while coaching up to 70 clients a month for Robbins Research (Tony Robbins), and traveling for speaking engagements for Monster.com. Being health educators with NSA Juice Plus was also a side business they enjoyed together.
Yet despite their success in so many areas of life, Juliet felt increasingly that there wasn't enough time for experiencing inner peace and connection with her family. "Rarely did I live in the present moment. My mind was constantly thinking about what I needed to do next. I always thought, when I get everything done, then I will feel some peace. But of course, there was always something more to be done."
And most of all, she wanted more time with her children.
Change Begins Within
Then suddenly, everything changed. Juliet and Darryl went to a lecture on the Transcendental Meditation technique, and the concept of reducing stress to improve health and create inner peace and clarity intrigued them.
"We had no idea how a simple decision to learn the Transcendental Meditation technique would change our lives," says Juliet. "We were already putting the right foods in our body but not doing anything for our minds. With four young children, we felt TM was something we really needed to calm our nerves and slow down."
After learning the TM technique in Kauai in January of 2009, Juliet began to feel the inner peace she was seeking.
Other changes followed. "After a few months of regular meditation, it became very clear to me that I needed to shift direction in my career," she says. "I wanted to live a simple life with more time to be present with my family."
Within a year, the Jarmoscos had relocated to a child-friendly small town in Iowa. Juliet gave up her corporate career to explore her passion for photography, setting up her own studio, Jarmosco Photography.
"I have to credit TM for helping me evolve into a more creative photographer who now can see and understand light," she says. "Before TM, I didn't really believe I could make a living doing what I love. I do now. I feel like a little kid again."
Now that her photography is no longer just a hobby, it has grown into a career that contributes to paying the bills with commercial and fashion work.
Juliet's photography has led her to become more interested in film. "Already, having the opportunity to work with very talented cinematographers has turned my work into my dream job for sure," she says.
Now she is in the process of setting up her own film company—OnlyWhatMattersFilm, soon to be launched as OWMfilm.com—to help women leaders and entrepreneurs who are working for the greater good to share their message with others.
"Those are the women I want to help with my photography and filmmaking," she says. "Women who are doing something that matters for others, women who have a positive message or a worthy cause or an uplifting product—women who are in some way trying to raise the level of consciousness in the world."
Already Juliet is meeting with success with this new direction, and was invited to be one of three official photographers of the Emerging Women Conference in San Francisco in October. This year's conference will bring together 400 women from all over the world to discuss "Changing the World through Feminine Leadership and Entrepreneurship" and will be keynoted by Dr. Jane Goodall, Dr. Brené Brown and Dr. Tererai Trent.
"I'm looking forward to photographing women from around the world who are working to make life better for others," she says.
Happier Family Life
Juliet notices a change in her family relationships as well. "Learning to meditate together has strengthened our marriage, as we are able to be more present and feel more connected," she says. "Darryl and I had a good marriage before we started meditating, but the fast pace of our lives gave us little time to connect and be in the moment."
Juliet and Darryl feel that it's good for their kids to see them model healthy behaviors. "We are happy to have a great tool to release stress versus self-medicating through overworking, overeating, or alcohol," she says. "We now have a healthy way to get grounded and centered."
These days Juliet feels more present when she's with her children and truly enjoys the moments they share. "I can be more of a mother to them, nourishing them with my cooking," she says. "I rarely had time to cook before. My patience has increased, and I'm more able to put the small things in perspective."
While Juliet says that they already were great kids, she feels a deeper connection with them now. "I feel grateful to have made this major shift in my life while the children were young, before I could have lost a chance for a meaningful relationship with them," she says. "Not that we were horrible parents before, but I can definitely see how they would have picked up more of our stress—taken it on themselves."
The older Jarmosco children also practice TM, and Juliet feels that helps them stay centered. "All our kids work together as a team (most of the time). I've heard from others in this very supportive community that they enjoy the dynamics of our family. They see the siblings taking care of each other at school or out on the town. The sense of unity in our family is strong."
As a friend of Juliet's, I know that many people admire her ability to run her own business, care for her family of six young children, show up to social events on time, and stay fit, relaxed and calm despite her many responsibilities.
Juliet herself finds this description amusing. "I find it so interesting when I hear people describe me as a calm mother," she says with a laugh. "I don't think anybody used the adjective "calm" to describe me before I started TM! No one. I was Type A, I was a doer, and I was an achiever—there was no calm about me."
Yet she does feel there has been a seismic shift in her life. "Internally, it's a drastic change, so why wouldn't it show up externally? It was nothing I tried to do; it was the beingness of it all, the inner peace I experience every day when I meditate."
---
Linda Egenes writes about green and healthy living and is the author of six books, including The Ramayana: A New Retelling of Valmiki's Ancient Epic—Complete and Comprehensive, co-authored with Kumuda Reddy, M.D.
More Posts by Linda