Oct 7, 2015
Percilla Herrera: A Passion for Helping Girls and Women Thrive
---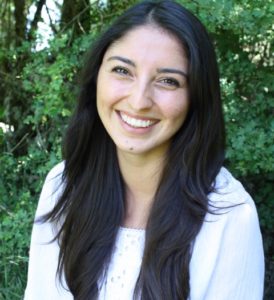 Percilla Herrera is a soft-spoken but dynamic young woman with a passion for helping girls and women thrive. Her insights into the challenges that women experience were sparked in her youth. The oldest of six children, she was raised by her single mother in an underserved neighborhood of Los Angeles.
"My mother has definitely been a motivating force in my life," Percilla says. "She worked a full-time job, studied for her green card and G.E.D., all while putting food on the table and making sure I got straight As in school."
While her mother made sure she excelled in school, Percilla's father understood the importance of team sports and encouraged her to play soccer.
She remembers, "I really didn't want to play soccer, but my dad insisted, and looking back, I'm glad he did." After her first year, she aspired to make the all-star team.
That was at age nine. Once she achieved that, she wanted to play club (travelling soccer), then she wanted to score the most goals. By high school, she was captain of the team.
After high school, Percilla enrolled at California State University in Long Beach, where she planned to major in business and marketing.
She laughs when she says a Nike commercial pointed her in a new direction. The commercial featured her soccer idol, Mia Hamm, playing a variety of sports with Michael Jordan, while the background song played "I can do anything you can do better, I can do anything better than you."
"That commercial was so inspiring to me," Percilla says now. "Not only did it connect with my passion for sports but it resonated with a deeper passion for empowering women."
In her first year, Percilla enrolled in a women's studies class and found new eyes to see the world. "That one course changed my life, I didn't know it then but it became my platform to build my life's goals upon."
After a loss in her family during her second year, she found herself struggling with emotional upheaval, making it impossible for her to continue as a student.
"For the first time in my life, I felt like I had failed," she says. Struggling to find balance, she started taking yoga classes every day. "That intense concentration took my mind away from the emotional challenges I was going through."
After a year she felt grounded again, but realized she could no longer bear the expense of daily yoga class. The solution, she realized, was to become a yoga teacher. Soon she was on a plane to India to attend a month-long yoga teacher training course.
"It was a grand, extravagant adventure for me," she says. "The silence and focus I experienced in India had a big effect on me, and I wished I'd had these tools earlier in my life. When I returned home, I connected with the teachers and principal at my former high school and started working to establish a nonprofit to integrate yoga and meditation in the LA schools."
Around this time she also set up an online dating profile and received a message from a young man named Hagen Rainbow, who asked if she'd like to get together to talk about meditation.
She agreed, and was amazed to hear that Hagen's job was teaching the Transcendental Meditation technique to kids in an L.A. junior high school. "It was serendipitous really. He was doing the exact job I was trying to create. I felt like I was looking at a reflection of myself," Percilla says.
Percilla was curious about how the meditation she had learned in India differed from TM, and Hagen suggested that she attend a free introductory lecture. Five days after they met, she signed up to learn TM.
"With the other meditation, I was struggling to recapture the silence I'd experienced in in India," she says. "With TM, it was effortless, I didn't have to try. I felt at peace, and that stayed with me all day. I knew immediately that this was the meditation for me, this was the key to unlocking full potential within myself, and I wanted to share it with other women."
In long conversations with Hagen, Percilla learned about Maharishi University of Management (MUM), the university he had attended in Fairfield, Iowa, where staff, students and faculty all practice the TM technique. "Hagen encouraged me to go back to school, to overcome my fear of failure and to pursue a degree that I was passionate about."
In characteristic fashion, within a month of enrolling at MUM, Percilla had a plan. "I came with the intention to study the science of consciousness and become a teacher of Transcendental Meditation, but I was having so many amazing insights as to how this all speaks to the importance of women, that I decided to integrate the knowledge with Women's Studies." Percilla designed her own degree in Women, Consciousness, and Health, combining Women Studies with Ayurveda (natural medicine).
As part of her degree, she earned a certificate as an Ayurvedic Wellness Consultant, and spent a one-month internship working with young women at the New Village Charter School in LA, where the students are being taught the Transcendental Meditation technique as part of a program funded by the David Lynch Foundation. "I first saw a video of the school, in which the principal said that these girls are living below the poverty line and 50 percent are either pregnant or already mothers, and most of them have been expelled or have dropped out of other schools," says Percilla. "I got chills, and knew I needed to be there."
Soon Percilla had arranged an internship through MUM to teach the students yoga andneurophysiology of the brain, based on a course she had taken at MUM by Dr. Fred Travis.
"The idea was to share with these young women how their bodies work and how their brain develops; to understand how meditation and other healthy habits, like eating a good diet and getting enough sleep, could strengthen their brain power and help them to make healthy choices," says Percilla.
Percilla feels that it was growing up with her single mom, watching her struggle and always wanting to help her, that motivates her to want to strengthen other mothers and give them the tools that they need to live happy and healthy lives.
"It was an incredible experience to teach these young mothers and it really strengthened my resolve that this is what I want to be doing," says Percilla. "I want to always be working with young women, either in a preventive way or to help women who are already experiencing hardships and giving them the tools they need to get them through that."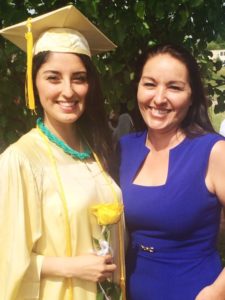 As a student at MUM, Percilla developed and taught a course in women's studies to the girls at the local high school. The course was the first of its kind—a high school women's studies curriculum that integrates consciousness-based education, focusing on self-development and women's empowerment. And did I mention, she graduated cum laude?
Now that she has graduated, Percilla has three main goals. First, she wants to become a teacher of the Transcendental Meditation technique. She is especially interested in teaching TM to women in underserved and at-risk populations; to women who are victims of domestic violence or sex trafficking.
After getting a foundation in teaching meditation to women in trauma, Percilla plans to pursue a higher degree. "I used to think I wanted a masters degree, but one of my teachers at MUM inspired me to think about a PhD," she says. "Building on the current research on TM, I'd like to research women who are suffering from PTSD due to domestic or sexual violence, and how meditation can help them recover." Percilla explains that one in three women have experienced trauma in their lives, and she notes, "We think of PTSD as a veteran's disorder, but the largest group suffering from PTSD is women."
After earning her PhD, she'd like to continue developing curricula and teaching women's studies in a university setting. Ultimately, she sees herself focusing on the education of all women, not just traumatized women.
"Women are the embodiment of nurturing, creativity, and dynamism," she says. "They are the ones who bring life and healing to a family. It's so important for all women, no matter whether they're working or raising a family or both, to feel balanced and not to feel stressed or anxious. TM is something that can help with that."
Whatever her choices, we know that Percilla will follow her heart. Best wishes in meeting all of your beautiful goals, Percilla!
---
Linda Egenes writes about green and healthy living and is the author of six books, including The Ramayana: A New Retelling of Valmiki's Ancient Epic—Complete and Comprehensive, co-authored with Kumuda Reddy, M.D.
More Posts by Linda