Mar 2, 2015
Overcoming the Stress of ADHD, Dyslexia and Other Learning Challenges
---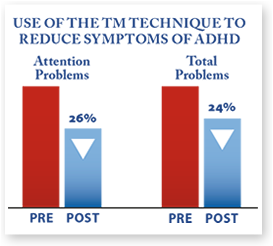 Stress is now thought to be a major factor in learning disorders such as ADHD. Now researchers are finding that the Transcendental Meditation technique—which has been shown in dozens of peer- reviewed studies to reduce stress, depression and anxiety—is helping students overcome ADHD and other learning challenges.
Sarina Grosswald, EdD, was one of the first researchers to study the connection between stress and ADHD.
"When the diagnosis of ADHD was starting to become much more common, and many parents were putting their children on drugs for ADHD, I had the thought that the Transcendental Meditation technique could help these kids," she says. "I connected with neuropsychologist Bill Stixrud, and we did a study on TM and ADHD, which was published in Current Issues of Education in 2009. Our research found a 50 percent reduction in stress, which is a huge effect at a statistically significant level. That's when I started talking about ADHD as being stress-related. This was a new concept at the time."
Dr. Grosswald notes that over the next few years, a similar theme started to emerge in other studies. It was found that premature birth increased the risk of ADHD by 50 percent. Low birth weight increased the risk by 70 to 90 percent. This research began to give credence to the idea that ADHD was, in fact, stress-related.
"In the past few months I've started seeing articles by people other that ask the question, 'Is ADHD stress-related?' So now it's becoming more broadly accepted that ADHD actually is stress-related," she says.
Improving the Functioning of the Brain
Fred Travis, PhD, the Director of the Center for Brain, Consciousness and Cognition at Maharishi University of Management, says that another reason the TM technique helps students with ADHD is by improving brain functioning. In a 2011 study published in Mind & Brain, The Journal of Psychiatry, he collaborated with Dr. Grosswald and Dr. Stixrud to study the effects of the TM technique on brain functioning of children with ADHD.
A child with ADHD has too much theta and too little beta brainwave activity, Dr. Travis says. Their brain is blocking things out, and it's hard for them to focus.
"In this randomized controlled study, the brain functioning of the meditating students moved from being solidly within clinical ADHD symptoms to just within normal brain functioning," he says. "What that means in practical terms is that the ADHD students can self- regulate both physical and mental impulses. So, for example, they'll be able to remember to raise their hand before speaking."
The study also looked at a second EEG measure, called coherence, which reflects how the different parts of the brain are working together.
"From the baseline to six-month posttest, we saw significant increases in coherence in all parts of the brain in four frequency bands: theta (focused inner attention), alpha (sense of self), beta (processing), and gamma (focused outer attention)," says Dr. Travis. "This shows that the brain is ceasing to function as isolated modules and is beginning to function more as a whole."
Reducing the Stress of Dyslexia
Other students have noticed that TM helps them handle the stress that learning challenges such as dyslexia bring.
Take Dana Farley, age 22, a Long Island native who credits the Transcendental Meditation technique with helping her to overcome the challenges of dyslexia as well as teenage anxiety and depression.
Having struggled with severe dyslexia since childhood, Dana says, "I had a lot of insecurities when it came to school. Since starting TM I'm not putting myself down all the time. The negative thoughts just don't appear. Instead of thinking, 'I can't do this' I'm thinking 'Why not?'"
Aware of the high stress levels and a troubling rise in suicide rates and depression in American teenagers, Dana had the idea to create a documentary about her own TM experience. She started making the film in high school, and continued working on it even while an undergraduate at Bucknell University. Even though Dana majored in English, she joined a film club to get more practice behind the camera. Dana's perseverance paid off.
While still a junior in college her documentary Beyond the Noise: My Transcendental Meditation Journey, which featured director David Lynch, was released and received a favorable response at the Marbella International Film Festival.
In the film, Dana talks about how TM practice can help young people deal with stress. "Instead of running away from or avoiding the problems and hassles you have by taking drugs or fooling around in other ways, TM practice helps bring a sense of inner freedom, of being 'high' in a completely natural way. It gives you a lift in your spirits—a freedom from the stress you are feeling and the sense of burden you are feeling."
Since the film came out in 2011, Dana has created another documentary, completed internships with Howard Stern radio, and graduated from college. She is currently pursuing work in documentary film and the nonprofit sector. She says, "I think of where I want to be in ten years, and it would be nice to in some way make a difference, to help people, to leave the world a little bit better than it was before."
---
Linda Egenes writes about green and healthy living and is the author of six books, including The Ramayana: A New Retelling of Valmiki's Ancient Epic—Complete and Comprehensive, co-authored with Kumuda Reddy, M.D.
More Posts by Linda