Mar 26, 2015
NYC Ballet Principal Megan Fairchild On Dance, Stress and TM
---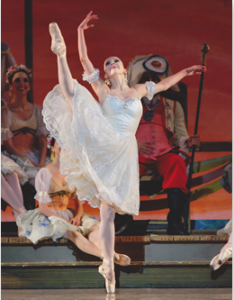 Being a professional ballerina can be hard on your health, mentally and physically.
For Megan Fairchild, age 30, a principal at the New York City Ballet who danced the role of the Sugar Plum Fairy in PBS' telecast of George Balanchine's The Nutcracker, stress almost derailed her career. On the fast track since joining the corps de ballet at age eighteen, becoming a soloist at nineteen and a principal by age twenty, she was suffering from debilitating panic attacks that put her out of work for days at a time.
"Life would get stressful, and one little thing like going to get a shot at the doctor's office would trigger my whole system to shut down," she says. "I would have panic attacks where I would pass out and be rushed to the emergency room."
Megan says the panic attacks started at age eighteen, but were manageable because they happened only once every two years.
Then it started happening more often, just six months apart. "I had to miss some performances," she says. "So I thought, 'OK, this isn't cool. This is affecting my job. I need to figure out how to manage my life in a way that is going to be a little more relaxing.'"
Fortunately for Megan, one of her ballet masters at NYCB, who did the Transcendental Meditation technique, suggested that she try it.
"She was the consummate professional and always in the moment and ready to get her job done," says Megan. "I felt like, well, if she does it, and she swears by it, then I'm going to try it."
Since starting TM, Megan has not had a single panic attack. She says, "There have been moments that, in the past, would have caused me to get light-headed and possibly go into an episode, but now I watch the moment pass by without any big event."
As Megan explains it, "My level of pushing my body was up so high that, basically, a fuse would blow. With TM I turn my stress dial back a little bit every day instead of letting it constantly turn up and build on itself."
She also attributes meditation to giving her the courage to make a bold career move. Just five months after starting TM, Megan got a text from the casting director of the Broadway musical On the Town, wondering if she wanted to audition for a lead role.
"At first I was like, 'I am not a Broadway performer. This is crazy,'" she says. "I laughed about it for a day, and then something happened. The next morning I woke up and I thought, 'Why not?' Looking back, I think it's no coincidence that my little opportunity happened after I learned Transcendental Meditation."
Says Megan, "That was a really important moment for me. Normally I would have been too shy, or would have thought no, that is not me and stayed in my little bubble. Instead, I was thinking that I am at a point in my career where I am ready to try new and different things, and this could be an exercise in jumping out of my comfort zone. I honestly believe that TM had something to do with that decision."
She ended up taking a year's leave from the New York City Ballet and received rave reviews from critics and fans alike for her starring role as "Miss Turnstiles" in the popular revival of On the Town.
Megan notices other benefits from TM. "I think TM helps you be a little more fearless. Before, I would hold on to trying to be really perfect and also was kind of obsessed with certain technical steps. Now, it's more of a bigger picture. I am enjoying my own performance more and taking every step and every movement to its fullest."
---
Linda Egenes writes about green and healthy living and is the author of six books, including The Ramayana: A New Retelling of Valmiki's Ancient Epic—Complete and Comprehensive, co-authored with Kumuda Reddy, M.D.
More Posts by Linda