Mar 10, 2014
No More Teacher Burnout
---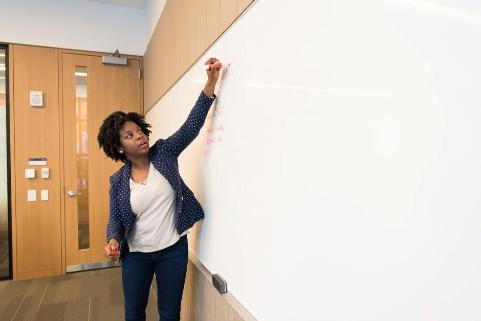 Recently I've been wishing I could thank my favorite elementary school teacher, Mrs. Hartman, for inspiring me to become a writer. A white-haired, dignified woman with tons of energy and enthusiasm, she knew precisely how to cultivate creativity in her students and keep them orderly and focused at the same time. She brought a near-religious zeal to her teaching of seventh grade language arts, permanently embedding in my mind the rules of grammar that I refer to every day as a writer. And I can still remember the laughter as we read our creative writing aloud to each other each week in her class, fueling my love of sharing stories.
Alas, the Mrs. Hartmans of the world are becoming hard to find. Not because there aren't dedicated and talented teachers—there are plenty of those—but because few teachers are able to stay in the profession long enough to become seasoned veterans. Half of new teachers bow out after just five years on the job, says the National Commission on Teaching and America's Future. This is especially a problem in urban schools, where an even higher turnover rate results in a higher percentage of under-qualified teachers. And the yearly cost to constantly replace teachers nationwide is a staggering $5.8 billion.
While teachers are paid less than people in comparable professions, according to the National Center for Education Statistics, it's not the low pay, but teacher burnout that is causing teachers to flee. And teacher burnout is on the rise.
And what is the cause of burnout? Poor working conditions, threat of layoffs, long hours, lack of support from administrators, isolation, the pressures created by the emphasis on standardized tests, fear of safety in an increasingly violent school environment, and the placement of new teachers in the most distressed schools are a few of the issues cited.
It's not just America's teachers who are experiencing burnout from stressful classroom conditions. A recent survey conducted by Monash University in Victoria, Australia, showed that 27% of new teachers were already suffering from emotional exhaustion akin to burnout and PTSD.
In a profession dominated by women, who according to research are more vulnerable to stress than men, the high stress levels can contribute to depression, anxiety, obesity, hypertension and other risk factors for cardiovascular disease.
While educational reform could take years, something needs to be done now to end teacher burnout. Some teachers are reducing stress and increasing job satisfaction by practicing the Transcendental Meditation technique. A recent research study published in the Permanente Journal conducted at the Bennington School in Vermont, a special in-residence school for students with behavioral problems, found that teachers' perceived levels of stress were significantly lowered after learning to meditate.
"The results of this randomized controlled trial are very striking and demonstrate the utility of introducing a stress reduction program for teachers and other public and private employees," says Dr. Charles Elder, MD, MPH, lead author of the study and a Senior Physician in the Department of Internal Medicine at Kaiser Permanente Northwest.
"The take-home message is that teachers can reduce stress and emotional exhaustion associated with burnout through the practice of Transcendental Meditation," said Sanford Nidich, Ed.D., the study's principal investigator who is also a professor of education and a research psychologist at Maharishi University of Management in Fairfield, Iowa.
"Even though the study was conducted over several months, the participants informally reported feeling less stressed and more energetic within a few days," said Nidich.
For the study, researchers randomly assigned 40 men and women to participate in either the TM program or serve as "waitlist" controls and eventually learn TM. At the end of the four-month study, those on the waitlist also learned TM.
In the TM group, the strongest effect was found on a measurement of stress, called the "perceived stress scale," with an effect size of 0.94 (showing a large effect of the TM program on stress).
"The four-month study found significant and clinically important decreases in perceived stress, emotional exhaustion associated with teacher burnout, and depressive symptoms in those practicing the TM program compared to a wait-list control group," says Dr. Eider.
And teacher burnout is not the only benefit of practicing meditation. Recent published studies have shown a positive impact of the Transcendental Meditation technique on student graduation rates, academic achievement, and psychological distress.
When students practice Transcendental Meditation in schools, it has a positive effect on teachers as well. Ugandan geography teacher Nadunga Rebecca, who teaches in a girls school in Uganda where all the students practice TM, says, "In the school where I used to be, the students used to give me a hard time and I was thinking of getting another occupation. But now I will never leave teaching."
---
Linda Egenes writes about green and healthy living and is the author of six books, including The Ramayana: A New Retelling of Valmiki's Ancient Epic—Complete and Comprehensive, co-authored with Kumuda Reddy, M.D.
More Posts by Linda