Oct 10, 2013
Being a Woman First
---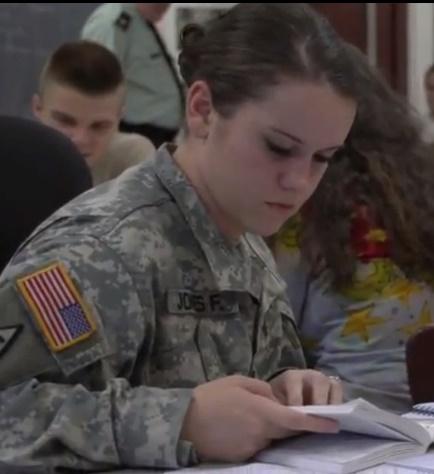 Women in combat are facing enormous challenges as they return home. Reintegrating into family life, finding housing, finding a job, being a mom and figuring out how to be a civilian again can be daunting.
Yet underlying all of these seemingly disparate roles a woman plays in the world is the role of being a woman. If a woman veteran can nourish her most essential self, the subtle essence of feminine beauty, softness and pride, she has come a long way in finding her place in the world.
What is that subtle essence and how can we nourish it? For many women, taking time for themselves, some "me" time is essential to maintaining balance in a world that requires us to constantly be on and constantly giving to others on the job and at home.
Many women veterans are turning to a special kind of "me" time by practicing the Transcendental Meditation (TM) technique. You could think of it as setting aside twenty minutes twice a day to transcend the problems and responsibilities of your life—but it's not an escape, it's a proven way to rejuvenate, reactivate and restore your vital energy. A way to reset your mind, body and emotions so you can meet the challenges of life with calm, with inner strength.
In fact, research shows that this highly pleasurable, peaceful "me" time experienced by women who practice the Transcendental Meditation technique allows the body to release traumatic stress. The flashbacks, insomnia, suicidal thoughts, despair and emotional numbness to fade away.
"Transcendental Meditation is completely the opposite of trauma," says veteran Tara Wise, director of the National Women Veterans Association of America (NWVAA). "As soon as I started, something shifted. I didn't have to rehash traumatic experiences."
How does the TM technique create a state that is the opposite of trauma? When a woman practices Transcendental Meditation, her mind settles down and becomes calm, her heart rate decreases, and her body reaches a state of deep rest, allowing it to dissolve deep-rooted stresses and strain.
One research study published in the Journal of Clinical Psychology found that the Transcendental Meditation technique is twice as effective as other self-help programs in reducing stress. Additional studies have found that TM is also twice as effective in reducing alcoholism and substance abuse than conventional approaches. In fact, there are 350 peer-reviewed studies showing improvements in everything from health to emotional balance to improved job performance with regular TM practice.
Having a tool to release traumatic stress is especially important for women, because there is evidence that differences in the way women process stress and emotions make women more likely to develop PTSD than men—even when exposed to similar types of trauma. Many experts believe that the epidemic of MST (military sexual trauma) is also contributing to the higher rates of PTSD in women veterans, who are twice as likely to develop PTSD than men.
"A year ago this month I was suicidal," shared Tara Weiss at the Resilient Warriors conference sponsored by the David Lynch Foundation. "I felt so low I wanted to just not be here." A year after starting to meditate, Weiss is back on her feet and functioning like a whole woman again. "Transcendental Meditation saved my life," she says.
Practicing TM is a matter of letting your mind settle down to the purest form of joy, power and bliss that resides within every woman. And what better way to spend "me" time than by shutting off the cellphone, shutting the door and being with your simplest, most beautiful inner self for twenty minutes twice a day?
---
Linda Egenes writes about green and healthy living and is the author of six books, including The Ramayana: A New Retelling of Valmiki's Ancient Epic—Complete and Comprehensive, co-authored with Kumuda Reddy, M.D.
More Posts by Linda