Jan 29, 2016
A Natural Antidote to Anxiety
---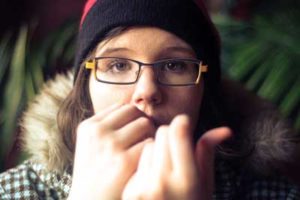 Susan Kane described herself as a worrier by nature. "I'd always find something to worry about," she says. When the anxiety started to impact her digestion, she found herself debilitated by stomach pain.
Millions of women today find that habitual unwarranted distress, worry or fear associated with Generalized Anxiety Disorder (GAD) make it difficult to function at work and at home. Worse, chronic anxiety can cause related health problems such as migraine headaches, insomnia, coronary heart disease, and depression. It can lead to increased use of tobacco and alcohol, further impairing health.
According to the National Institute of Mental Health, GAD affects about 6.8 million American adults, including twice as many women as men. In fact, data indicates that nearly two-thirds of the estimated 57 million adults suffering from any of the many types of anxiety disorders are women.
Why are women prone to anxiety? The answer may lie in the chemistry of the brain.
Stress and the Female Brain
Researchers now think anxiety is caused by the stress that is a constant presence in the lives of most women today. Stress can result from a catastrophic illness or loss of employment but, more commonly, it's the everyday pressures of juggling work, family and personal life 24/7 that create a persistent state of tension, pressure and worry.
In the short term, stress prepares us to confront a crisis by putting the body on alert—it mobilizes the body for dynamic activity (the flight-or-fight reflex). But chronic stress depletes the body's resources and creates emotional imbalance, reducing our ability to cope. While the human body is prepared to handle occasional stressful situations, you don't want the fight-or-flight response to get activated on a daily basis. For instance, you want your body to gear up for an emergency if you have to dash across the street to save your toddler from getting hit by a car—but you know something's wrong when your heart starts beating rapidly, your breathing becomes labored and adrenaline surges through your body every time you're two minutes late to your kid's soccer match.
And here's part of the problem—the fight-or-flight response is activated more readily in women than in men, and stays activated longer. In other words, women could be exposed to the same level of stress as men, but react to it differently.
Why? Hormones may play a role. Researchers are finding that the interaction of estrogen and progesterone speed up reactivity to stress. And women are more sensitive to low levels of corticotropin-releasing factor (CRF), a hormone that organizes stress responses in mammals. Researchers think this sensitivity is what makes women twice as vulnerable as men to stress-related disorders.
Whatever the causes, many women today need help reducing stress and staying in balance. And many, like Susan Kane, are turning to a simple, natural way to relieve stress—the Transcendental Meditation technique.
Lifting the Weight of Stress
Susan heard about TM while searching for a way to relieve her anxiety and resultant stomach disorder without medication.
"TM calmed me," she says. "In less than a year, I've noticed that my digestive system has pretty much returned to normal. That's a huge benefit to me, as I've been able to deal with this problem without medication and I'm very thankful for that."
Terry Lang also found that TM lessened a lifelong pattern of worry. "TM is helping my anxiety, which I have been plagued with my whole life," she says. "Each time I meditate, I feel the weight of anxiety and the world being lifted from my shoulders."
Susan, Terry and millions of other women have experienced that TM not only provides immediate relief from a stressful day—but over time, dissolves the deep-rooted stresses that a night's sleep can't touch. The incessant mental chatter and anxious thoughts have naturally ebbed away, like turning down the volume on a radio.
Twice As Effective As Relaxation
These kinds of anecdotal experiences are backed by solid research—more than 35 research studies have been published in peer-reviewed journals on TM's effects on anxiety alone. As just one example, a review of 146 research studies comparing TM to other anxiety-reducing techniques, conducted at Stanford University and published in the Journal of Clinical Psychology, found that TM was more than twice as effective in reducing anxiety as other techniques. While the other techniques studied (including progressive muscular relaxation, the "relaxation response," and other forms of meditation) had only the same effectiveness as the placebo effect, the study showed a significant correlation between regular TM practice and reduction of anxiety. An added bonus: the effects didn't wear off as time passed. In fact, the anxiety-reducing effect increased as a person continued to meditate over time.
The Journal of Alternative and Complementary Medicine reported that people who scored highest on the anxiety scale (in the 90th percentile) found their anxiety plummeting to the 57th percentile after starting TM. Since the average score for Americans is the 50th percentile, this means that high anxiety levels dropped to nearly normal in the first three to four weeks of TM practice.
The Opposite of the Stress Response
Why is TM so much more effective than mere relaxation in reducing stress and anxiety? TM creates a unique state in the mind and body that is the opposite of the stress response.
During TM, women experience that their mind becomes naturally quieter and more settled until the mind goes beyond thought and arrives at its deepest, most peaceful state. Anxiety is transcended as the mind accesses its inner reserves of energy, creativity and intelligence.
Instead of heart and breath rates speeding up as they do during the fight-or-flight response, heart and breath rates during TM slow down. Instead of flight-or-fight's increased blood pressure and muscle tension, there is a decrease of blood pressure and muscle tension during TM practice. Instead of a surge of the stress biochemicals cortisol and plasma lactate, there is a steep decline. What surges through your body during TM are the natural mood-enhancers such as serotonin and 5-HIAA, causing NIH researchers to dub the body's response to TM "the rest and fulfillment response."
This notion of a "fulfillment response" is significant. Many women start TM to relieve chronic anxiety or stress—and find that it not only relieves anxiety but gives much, much more. You come out of meditation feeling refreshed, rejuvenated. Worries are less. Your mind is clear and emotions are at ease. TM energizes life, increases clarity and focus, and rewards us with inner peace.
Veronica Butler, MD, co-author of A Woman's Best Medicine says, "The Transcendental Meditation technique helps promote mental and emotional well-being. It has especially helped my patients with depression, anxiety, and insomnia."
Having the antidote to anxiety is just half the story. With Transcendental Meditation, life itself becomes simple and joyful.
---
Linda Egenes writes about green and healthy living and is the author of six books, including The Ramayana: A New Retelling of Valmiki's Ancient Epic—Complete and Comprehensive, co-authored with Kumuda Reddy, M.D.
More Posts by Linda