Jun 19, 2017
From Taiwan to Iowa: Dr. Ayako Huang
---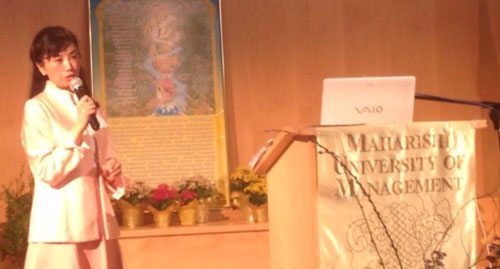 I recently met Dr. Ayako Huang. I was so impressed by her joyful brightness, her calm, her purposefulness and her intelligence, that I asked for an interview on her life and goals. Ayako, whose life followed a unique path from Taiwan to Iowa, is currently the Director of the Online and Evening/Weekend MBA Programs and an Assistant Professor of Management at Maharishi University of Management in Fairfield, Iowa.
Please tell me about your childhood in your native land.
I grew up in Taiwan with a Japanese style family because my grandmother was from Japan. I had a bilingual upbringing in a Tibetan Buddhist household, where my mother would take me to the temple regularly. I learned Zen Buddhist meditation at a very early age. My home was surrounded by nature, with a little stream running near to my house and a beautiful lush mountain rising up behind. It was a good childhood, spent with the neighborhood children running around, catching butterflies, and playing games.
As you were growing up, what inspired you to study business management?
My grandfather was a politician in Taiwan, and my father would regularly take me to rallies and other political events. It gave me an early exposure to promotion and marketing in a political setting. I think it was this that gave me my initial interest in business. However, it was a squirrel that changed my life direction! After my graduation from high school, my family was planning to send me to Japan to continue my education. Then one of my cousins visited me from Vancouver, Canada during that summer. He showed me a photo with a squirrel standing under a big maple tree in his backyard. For some reason, this tiny animal attracted me; I gave up all preparations to go to Japan and followed my cousin to Vancouver that same year.
My life was filled with curiosity and adventure at that time. I enjoyed the beautiful Canadian landscapes, met new friends, and learned skiing and horseback riding. Everything seemed so much fun for me to explore and to learn. My mom was a little bit sad that I was not homesick at all. She described me as "a little bird that flew out of the cage." I was not afraid to live a new life and I was willing to accept challenges. My stay in Canada was the one of the best times of my life. Then, after two years, I moved to the States. I studied at Eastern Washington University in Washington State, completing both my BA and Masters in Public Administration degrees. Later I came to Maharishi University of Management to pursue my Ph.D. and become an assistant professor at the business department after my graduation.
What has meditation done for you?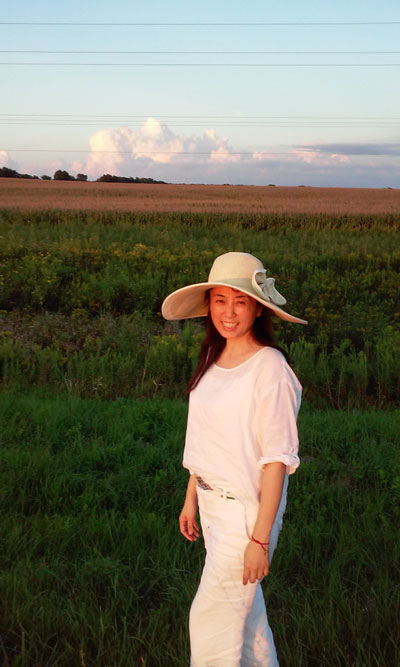 I had been meditating with one form of meditation—Buddhist meditation—since I was very young, but I learned Transcendental Meditation when I came to MUM. With TM, I found that there were fewer emotional swings, and what resulted was a more stable state of being. It was like an onion, in that the longer I meditated, the more the layers of my emotional baggage were peeled away, and what resulted was just a state of complete enjoyment and bliss. Life is not only happier but also everything becomes clearer. With such a clear lens, I can do things more efficiently and effectively. This is the development of consciousness and its benefits in daily life.
Please explain the Science of Management from the perspective of the development of consciousness.
When consciousness is enlivened, it's amazing how just by putting your attention in any area—business and administration or otherwise—the whole thing seems to sort itself out. I see that with my students, and see it in my own work—that everything is just effortless, which seems to go hand in hand with an individual's development of consciousness. For example, I have been using a service-learning approach to teach my MBA classes, in which students apply academic knowledge to address genuine community needs. There are always community projects available to meet the various students' interests and skills every year. That's why I'm so excited to have recently become involved with the online MBA in our sustainable business program at Maharishi University of Management, because we are able to present this extraordinary, consciousness-based approach to a broader audience.
This three-year (six semesters) MBA program is designed for individuals who want to gain the necessary knowledge to become sustainable business leaders, all from the comfort of their own home. The Online MBA courses are held on Tuesday and Thursday evenings and Saturday mornings. The class sessions are video-conferenced live via the Internet and are recorded for students whose time zone or work schedule does not permit synchronous participation. Each semester is themed around a main business function: marketing, accounting, operations, business planning, and finance. It also incorporates sustainable business theories and practices into the curriculum. Additionally, the program includes Consciousness Based Education and Transcendental Meditation, which neuroscientists have found to increase brain functioning and clarity. If any inquirer has questions about the online MUM program, she can contact me directly at ahuang@mum.edu. The online description of the course is here: https://www.mum.edu/mum-online/masters-in-business-administration/
What are the special benefits of an MUM education in your department?
TM helps one to operate effortlessly from the full potential of the mind—the field of consciousness at the most settled state of the mind has Absolute Managing ability—it's a field of infinite intelligence, energy and organizing power. This is something that students begin to gain when they enroll in the MUM business program. Obviously, they gain the practical skills to be competitive in the marketplace, but more than that, they gain an ability to be at home with themselves and see who they are from the inside out.
---
Janet Hoffman is the executive director of TM for Women Professionals, a division of TM for Women in the USA
More Posts by Janet