Mar 20, 2016
A Psychiatric Nurse Practitioner on Anxiety, Depression, Hormones, and Medication
---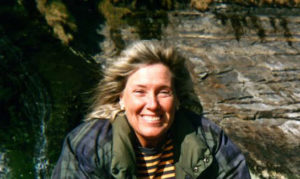 Maribeth Flood is a licensed psychiatric nurse practitioner in the state of Washington. She earned her B.S.N. from Louisiana State University Medical Center and her M.S. from Tulane University. She is a respected speaker and published writer and is currently in private practice.
Maribeth is also a certified teacher of the Transcendental Meditation program. I sat down with her to find out how these two fields intersect. She is a smart, focused, thoughtful and happy woman, quick to laugh and very supportive.
JH: Please tell me what a psychiatric nurse practitioner does.
MF: A Psychiatric-mental health nurse practitioner is an advanced practice registered nurse trained to provide a range of mental health services to patients and their families. They conduct therapy, diagnose, and prescribe medication—sometimes in conjunction with physicians—for patients who have psychiatric or medical organic brain disorders or who have substance abuse problems. PMHNPs are licensed to provide emergency psychiatric services, physical and psychosocial assessment of their patients, treatment plans, and to manage patient care. They sometimes serve as consultants or educators for families and staff. 
JH: In the field of mental health, especially for women, are depression and anxiety common reasons for seeking help?
MF: Yes. These disorders, in which women predominate, affect approximately one in three people and therefore constitute a serious public health problem. And about twice as many women experience General Anxiety Disorder than men.
JH: As a TM teacher, can you tell me what evidence there is that the TM technique reduces anxiety?
MF: Subjectively, women who learn TM report that it's their experience that they become less anxious. As far as objective reports show, there have been many published studies on this concern. One study was a meta-analysis of 146 independent studies, and was published in the Journal of Clinical Psychology. The TM technique was found to be twice as effective as other techniques for stress and anxiety. According to a report published in the Journal of Alternative and Complementary Medicine, a meta-analysis of TM analyzing 16 trials and 1,295 participants concluded that TM worked better in reducing severe anxiety than psychotherapy or other relaxation techniques. In that study, statistics showed that the people with the highest anxiety levels experienced more than a 50% decrease in symptoms. A former senior researcher at the National Institutes of Mental Health, Norman Rosenthal, now at Georgetown University Medical School said, "No other 'stress management technique' has anywhere close to this amount of hard data in support of its claims to reduce stress."
JH: About eleven percent of women in America are on antidepressants. Is there evidence about TM reducing depression?
MF: Yes, over the years, there has been significant research showing this benefit. A recent study led by researchers at University of California Los Angeles shows that depressive symptoms decreased by almost 50% over a 12-month period among people practicing the Transcendental Meditation technique, compared to controls. One of the older studies, published in the Journal of Instructional Psychology in 1995, showed that university students who learned the TM technique experienced reduced depression after only three months and the students who didn't learn TM didn't. There have also been published studies showing TM increases positive self-concept and psychological health. Anxiety, Stress and Coping reported both decreased anxiety and depression.
JH: Let's discuss the use of psychotropic medications in women. Do they have unwanted side effects?
MF: Female gender is often a significant predictor of being prescribed mood altering psychotropic drugs. About 80% of the prescriptions for antidepressant drugs in the U.S. are for women. About one out of three doctor's visits by women involves an antidepressant prescription. According to the National Institute of Mental Health, "These medications appear to have a relatively small effect in patients broadly classified as having depression. In some patients, perhaps those with more severe clinical conditions, they appear to be essential for remission." However, they go on to state that in an NIMH-funded study, it was found that people who were prescribed antidepressants had "remission rates of 31 percent after 14 weeks and 65 percent at six months" indicating that antidepressants are only effective for some people. Some of these medications have a wide range of side effects including suicidal thoughts, insomnia, weight gain, restlessness, dizziness and sexual dysfunction just to name a few.
JH: To contrast, during practice of the Transcendental Meditation technique, what biochemical changes take place that affect emotion, mental state, and well-being?
MF: Stress has been implicated in both somatic and mental disorders. Transcendental Meditation reduces stress. Studies of the TM technique as a way to counter the effects of stress have reported altered levels of several hormones both during the practice and after regular practice of this technique—for example, reduction of cortisol. The results showed significantly that in the TM group, but not in the controls, basal cortisol level and average cortisol across the stress session decreased from pre- to post-test, suggesting that repeated practice of the TM technique reverses effects of chronic stress significant for physical and mental health. During TM, there are also improvements documented in brain functioning which allow for improved moral judgement, reduction of violent tendencies, and increase of impulse control.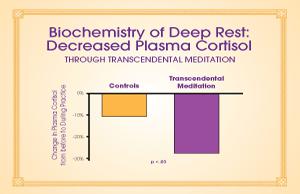 This study, published in the journal Hormones and Behavior, showed that TM significantly decreased cortisol, indicated reduced stress.
Studies published in the Journal of Alternative and Complementary Medicine and the Journal of Neural Transmission has shown that people who practice the TM technique have 30-40% lower levels of the major stress hormones, adrenaline and noradrenaline, than matched controls who do not meditate.
JH: Please highlight and contrast some of the difference in the mechanics of TM and psychiatric counseling.
MF: One of the values in counseling is that attention is given to considering the triggers that "push our buttons." This is done in the interest of diminishing the power of these triggers, thus allowing us to be more stable.
A significant value in practicing the Transcendental Meditation technique is a fundamental increase in awareness. which allows us to have an improved perspective on reality and a more stable foundation in our inner self. This growth of awareness also diminishes the power of changing circumstances as triggers. That, along with the very tangible benefits of reducing stress and anxiety, make life more manageable and enjoyable.
JH: How would you describe the benefit of starting the TM practice to those already in counseling? Do you recommend it to patients?
MF: I have recommended Transcendental Meditation to my patients and to my colleagues for themselves and their patients. They have reported better sleep, improvements in their family and work relationships, a feeling of calmness and an improved and more stable mood as a result of just 20 minutes of TM twice a day.
JH: There has been published research showing TM benefits to caregivers, nurses, and so on. Do you think TM has helped you in your professional life?
MF: I learned Transcendental Meditation in nursing school and have continued meditating throughout my career. It helps me every day personally and professionally. The goals of psychiatry and of the TM program are consistent in that the desired outcome is not just an absence of disease but the evolution of a truly integrated, fulfilled individual.
Becoming a certified Transcendental Meditation teacher allowed me to offer that evolution in the most profound way to my patients; it is the most effective and fulfilling thing I have done in my private practice as a mental health professional and psychiatric nurse. Recently, one of my TM students wrote about her meditation experience:
I feel calm! Ultimate calm experience like never before. Grounded in a profound way. Those words seem cliché…but it's just truly profound. And very easy. Now I see why you say TM is effortless.
---
Janet Hoffman is the executive director of TM for Women Professionals, a division of TM for Women in the USA
More Posts by Janet